InfoComm 2023: Exploring Emerging Trends in Managed Services and All-in-One Solutions
As InfoComm 2023 approaches, key trends in the technology sector are emerging that will shape the future of the industry. The re-emergence of managed services, where value-add offerings such as content creation, programming, bandwidth, and telecommunications are becoming vital for businesses, promises new avenues for recurring revenue. Be on the lookout for managed service providers who can add value to your enterprise.
Additionally, all-in-one solutions are gaining popularity post-pandemic, with products like portable loudspeakers, teleconferencing products, and control solutions offering streamlined, user-friendly experiences. The appeal of these products lies in their simplicity and ease-of-use, often providing plug-and-play solutions. So, for those attending InfoComm 2023, the focus should be on managed services and all-in-one solutions. For a deeper understanding of these trends, listen in to Robert Voorhees, Manager at Exertis Almo, a key player in the technology solutions space.
Robert's Thoughts
"There are two trends that I am super excited to see on the show floor. The first being managed services. Services might seem like a buzzword of the past, but I am here to tell you that it is still a huge focus heading into the future. Anytime you can provide a value add to your customers, whether it be content creation, programming, bandwidth, and telecommunications, these are all great services that are needed by your customers. It can complete the job, and by the way, it could possibly add a stream of recurring revenue for your business. Keep your eyes peeled on the show floor for managed service providers."
"The second trend I'm interested in right now is all-in-one solutions. There's really seems to be a big boom on these products coming out of the pandemic, whether it be all-in-one portable loudspeakers, which I've talked about in the past, but now we're seeing a lot more with teleconferencing products. It could be sound bars with integrated cameras and microphones as an example. Or recently, we've seen some manufacturers come out with all-in-one control solutions that are amplified. These products are so popular with your customers because they are all-in-one, streamlined, simple to use, and a lot of them to be honest with you are plug-and-play solutions. It can't get much easier than that."
Latest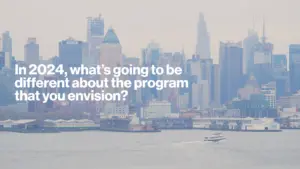 December 1, 2023
In the dynamic telecommunications landscape, Verizon's Partner Network continues to evolve, adapting to new trends and opportunities. For another segment featuring Mark Tina, VP of Indirect Channel Distribution and Channel Chief at Verizon Business Group, he explores exactly what types of significant changes and advancements the Verizon Partner Network will see in 2024. In this […]
Read More