InfoComm Speaker Colin Birney Reflects on 2018 InfoComm Experience
MarketScale connected with Colin Birney of Birney Consulting at InfoComm 2018 last week. He was eager to talk about AV managed services, which he believes those in the industry need to be talking about it with their clients.
His company tries to help people understand how to live in an environment in which we are moving out the static and into the dynamic of the open source platform. He spoke of how it is tough to "get people to wrap their head around a software based-solution because we are so box oriented."
Birney tries to challenge people to start thinking that way even if they are not ready for open source today. He argues that it is critical that the industry always be forward-thinking and to encourage clients to be open and start thinking about the transition to a "move living and changing environment rather than the old static way."
When asked about trends he sees, Birney stated that he sees software heavy solutions, and he also sees new solutions in general that are generated from the increased power available in the community. He added that the video collaboration available in an open source platform is hot right now, and also a huge move to the cloud is transforming the industry. He stated that "with really good internet connect now, cloud technology simplifies corporate networking and simplifies AV."
Birney also sees the new innovations in wall panels as an exciting development in AV.
"TV used to be static, and then we moved to LED, which was great, but now as panel manufacturers are getting more interesting designs, they can offer impressive solutions in signage that are impacting retail, restaurants, and other venues. We are creating unique content on a long skinny panel, for example, with a highly impactful design," he said.
He sees this trend in diverse shapes and designs in panels as one of the most impactful elements to watch in the near future.
Latest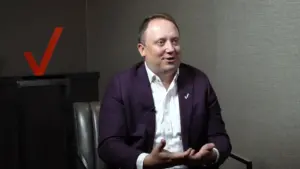 December 1, 2023
For a special episode of The Verizon Partner Network the focus was on the considerable role of partnerships in the Verizon Partner Program and the leaders shared their perspectives on the initiative. Their conversation brought about a lot of thought-providing context on the evolving telecommunications landscape. In today's era, collaboration and integration are key to […]
Read More