Leading Up To NAB With Covenant Church
For any business entity with A/V and digital media needs, the annual National Association of Broadcasters trade show is known as a must-visit. In a statement on the associations' website, the NAB is touted as "the ultimate, entertainment, and technology professionals looking for new and innovative ways to create, manage, deliver, and monetize content on any platform." It is an exhibit for industries ranging from broadcast to retail, including religious institutions. Market Scale had the pleasure of speaking with Covenant Church about their interest in this year's trade show.
Alex Stone is the videographer for Covenant Church, a ministry with 5 campuses in and around the Dallas/Fort Worth metroplex, as well as countless partner churches nationwide. Most modern ministries have extravagant A/V systems for their congregations. High quality cameras to record sermons and A/V equipment for music, lighting, and for clear, crisp broadcasts are just a few examples of how churches like Covenant bring Sunday service into the 21st century.
When asked about what makes NAB special compared to other trade shows, Alex Stone had her eyes set on a few different industries, stating, "I'm excited to see the new production cameras and production lighting gear." She also added that the new, lightweight 4K cameras were among the technologies she was most looking forward to seeing in Vegas. The NAB show is at the forefront of production and broadcasting, providing attendees with a first-look at new technologies being marketed, as well as continuing to show strength to vendors and investors alike. In regards to what she sees in the future of production equipment for consumers like Covenant Church, Ms. Stone was clear and concise––"Cheaper and higher quality equipment" ––a sure sign the NAB Show will exceed industry expectations this year. Check out more information about NAB here.
Latest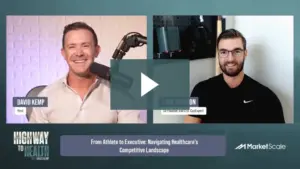 September 28, 2023
Navigating healthcare's competitive landscape requires innovative solutions addressing care quality and affordability. CapExpert is a game-changer in outpatient healthcare. It enhances asset management, ensuring the best care for patients. Luke Johnson, Co-Founder and CEO of CapExpert, spoke with Highway to Health's David Kemp on how CapExpert enhances asset management, bridging visibility gaps and streamlining […]
Read More