Living Live: Leveraging Video to Cover Elections
On this episode of Living Live with Ross Video, Director of Product Marketing, XPression Patrick Twomey and Director of Product Marketing, Virtual Solutions Gideon Ferber joined host Tyler Kern to discuss the upcoming presidential election and how video producers can best leverage their craft to deliver engaging coverage.
Twomey said that one of the biggest challenges facing election coverage is the uptick in what's asked of crews that aren't specifically focusing on that coverage.
"Generally, the resources available at a TV station in North America, or at least in the United States … are compartmentalized," he said. "So, the same team that's covering other current events and other stories in the market will be repurposed at the last second to cover elections. The graphics teams don't have people dedicated to cutting out headshots and candidate information and logos."
As opposed to pre-planning election coverage, Twomey said, many stations simply focus on regular coverage and programming until it's time to step it up as the election draws near.
Though election coverage is critically important, this lack of attention beforehand, combined with a feeling that much of it can't be planned in advance, regardless, holds that coverage back.
Fortunately, Twomey said, there's a solution in the form of applying resources already available to many stations.
"A lot of broadcasters don't even realize that some of the data tools are already in the building," he said. "The same information that they use to drive their tickers, for example, on the bottom of the screen, whether it's for school closings or headlines for the morning newscast. Usually, those same tools have some type of application for elections."
Kern, Twomey and Ferber also discussed being flexible and proactive instead of reactionary, crafting storytelling with graphics, and more.
For the latest news, videos, and podcasts in the Pro AV Industry, be sure to subscribe to our industry publication. A new episode of the Pro AV Show drops every Thursday.
Follow us on social media for the latest updates in B2B!
Twitter – @MarketScale
Facebook – facebook.com/marketscale
LinkedIn – linkedin.com/company/marketscale
Latest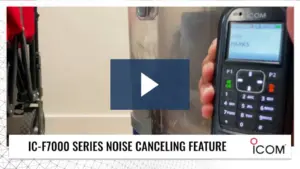 September 27, 2023
In this brief product demonstration video, ICom's IC-F7000 Series receives a mic test of its noise-canceling feature. Through the two demonstrations it is clear the IC-F7000 removes loud ambient noise for clear two-way communication.
Read More