Recap from Day 1 of InfoComm 2022
Amazing Scenes From the Exertis Almo Party!
If you missed the Exertis Almo party at InfoComm 2022, then you missed out on a rocking good time! Here are some of the highlights from an incredible event.
Plus, you can catch our conversation with Sam Taylor, COO at Exertis Almo, to get his thoughts on the Almo acquisition and what it means for the future of the AV industry.
"We're bringing together two great companies and we're using best practices from both companies so we're becoming better than we each were separately. Combined now, it gives us scale. We have a hundred salespeople across the US calling on our customer base. We went from seven warehouses to fourteen that we can draw inventory from for our customers," explained Taylor.
For more, stay tuned to MarketScale's continuing coverage of InfoComm 2022!
---
Thursday's Schedule of Events!
Pro AV Today and AVIXA TV host Ben Thomas checks in from the AVIXA booth with a reminder to tune in Thursday morning at 9 AM PT for another episode of the Morning Show from InfoComm 2022. Tune in for all of the action here on MarketScale!
See below for a full schedule of events for Thursday, June 9th (all times in PT).
---
Check Out Draper's Booth at InfoComm 2022
Draper Inc. has been in business since 1902, manufacturing projection screens, projector and AV lifts, window shades, solar control solutions, videoconferencing solutions, gymnasium equipment, and custom AV solutions. Check out their booth at InfoComm 2022 and learn more about the work they're doing in this space.
Insights:
Hi, I am Jentry Wittkamper with Draper Incorporated. And we're all excited about InfoComm 2022, a lot of people in the hall and a lot of people at registration. This year we're showing our mounts and structures for led displays, both custom and kind of standard configurations. Still have our projection screens and mounts and lifts for projectors, and then also showing our shades that we've been doing for a long time.
So you can find us in the north hall, we're right next to the main registration area. So look forward to talking to you.
---
Catching Up with Peerless-AV at InfoComm 2022
The Peerless-AV booth at InfoComm is a can't-miss experience every year. What do they have going on this year? We're glad you asked! Here is Becky Cann, Director of Global PR at Peerless-AV, with an update.
Insights:
Welcome to InfoComm 2022, you're on the Peerless-AV booth, N2831, please do come and visit us for a booth store and to see the team from the U.S. and EMEA regions. On the booth this year, we're showing a range of DVLED mounting solutions, as you can see behind me. We're also showing outdoor displays and outdoor TVs, kiosk solutions, and many other mounting solutions, trolleys, and stands.
So please do come along. See what's new. There's much to talk about, including our recent acquisition of ADF. So please do come along and find out more.
---
Watch AVIXA TV Live on MarketScale!
Don't miss any of the hype or expertise from InfoComm 2022! Tune in all day long for continuing coverage of the show on AVIXA TV streaming live on MarketScale.com. Click here to join the conversation!
---
MarketScale is on the Ground at InfoComm 2022
MarketScale's Chief Revenue Officer, Tim Maitland, is on the floor at InfoComm 2022! Stay tuned for updates from the show floor, featuring insights and trends from the biggest companies in pro AV.
If you're at the show, keep an eye out for Tim and get your insights published on MarketScale.com.
---
Schedule of Events for Wednesday, June 8th
MarketScale is bringing you all of the coverage of InfoComm 2022 right here in one place. Tune in live all day long as we bring you AVIXA TV right here on MarketScale.com. Check out the schedule of events below and stay up to date on all things InfoComm!
Note: All times are PT
Latest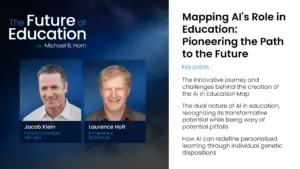 October 2, 2023
Mapping AI's role in education should be a critical step in bringing together innovative technology-based solutions with the expertise of human educators. With rapid advancements in artificial intelligence and an increased reliance on technology-driven educational solutions, the education landscape is on the brink of a significant transformation. AI promises highly personalized learning experiences, efficient administrative […]
Read More