PDS Wins 2018 DIGI Award for Best Deployment, Entertainment
The movies recently got a little more magical—and as a result, the motion picture industry stands poised to ride the wave of the next phase in the movie-going revolution. Each upgrade in the history of cinema can be correlated to the display device, the actual screen holding audiences around the world captive in a director's unique movie vision. The first era of cinema was based on 35MM film projection, and then 70MM for increased quality and differentiation. The second era in the movies was the adoption of digital cinema, starting with 2K and moving to 4K.
The third era in Cinema is dawning right now.
Introduced by Samsung at CinemaCon 2017, direct view LED showcases film in high definition using bright and vibrant color. With an array measuring 40 feet and using 96 LED cabinets attached to a custom engineered visual structure, this switch from film projector technology is a giant leap forward in film that absolutely stunned conference viewers.
Direct view LED exceeds current DCI standards for visual quality. In fact, Samsung demonstrated ten times the brightness compared to standard digital cinema. Theater owners integrating direct view LED can also enjoy 100,000 hours (up to 15 years) of service life.
PDS Wins 2018 DIGI Award for Best Deployment, Entertainment
Engineering this project for the very first LED cinema mobile and temporary installation required close coordination with the Samsung team and venue staff. There was zero room for error, and the schedule was set in stone for the CinemaCon Show held at The Orleans Hotel & Casino in Las Vegas.
Recognizing the significance of the project to the entire motion picture industry, PDS brought their successful track record of taking responsibility for projects of this scale to fruition. PDS provided needs analysis, engineering, scaled dimensional drawings, manufacturing, on-site consultation, installation, and final testing to bring direct-lit LED technology for High Dynamic Range (HDR) to the Cinemark Century Orleans 18 and XD Theatre.
Presented by Digital Signage Magazine in recognition of the special challenges of this project, PDS won the 2018 DIGI Award, for Best Deployment, Entertainment–Temporary Installation. "From fine-pitch LED in unusual entertainment applications to merchandising at the highest levels to employee-facing systems for corporations, the DIGI Awards are still the best look at how digital signage and DOOH best practices are defining a new digital landscape," says Chair of the Judges Committee for the DIGI Awards, NewBay Media executive editor David Keene.
The entire PDS team is pleased to accept the coveted 2018 DIGI award.
To learn more about Premier Dedicated Solutions, visit pdscustom.com/services/design-and-engineering/today.
Read more at http://pdscustom.com
Latest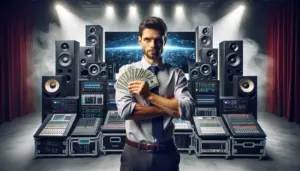 December 8, 2023
Mastering AV sales strategies in a global professional audio-visual (Pro AV) market, poised to reach $79.2 billion by 2028, requires much attention to detail. The surge in demand from corporate, government, and institutional sectors, driven by the need for enhanced productivity and efficient working environments, gives AV sales pros a lot of opportunity. In […]
Read More