Prysm Interactive LPD Boards Are Changing Boardrooms
At InfoComm 2018 Prysm stood out from the barrage of vendors lining the exhibit halls. MarketScale sat down with Vice President of Marketing Hannah Grap, to discuss Prysm's latest project and the advancements they've made in the digital signage industry.
The showcase this year for Prysm revolved around its brand new 6K resolution LPD video series wall. InfoComm marked the first trade show Prysm made this product available for the public to see. Two aspects of this wall set it apart from the competition—the bezel-free technology eliminating unwanted seams within the wall and its natively touch enabled screen, giving the customer a new, high definition, and interactive experience.
High valued collaboration spaces are some of the most sought out applications for this wall according to Grap. From boardrooms to conference centers, this wall can be used to really drive sales and impress clients in the process, emphasizing "They want to have that wow factor."
Grap lauds the value this digital wall can have for retail solutions as well. Referencing a partnership with Under Armor, Grap highlighted how important the "fun" aspect of interactive digital signage is going to be for industries throughout.
"UA uses LPD in their recruitment centers, so when they recruit new athletes they're able to deliver a very nice up-close interactive experience," she said.
When it comes to traditional brick and mortar, amplifying the customer experience often delivers the best results, which is why Grap sees many other signage companies starting to catch up.
"Getting that wow factor with the interactivity is becoming more of a requirement than something just to have," she said.
Latest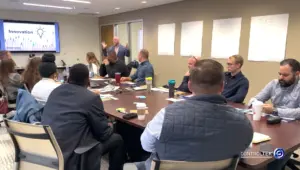 December 4, 2023
The video captures highlights from the CONTROLTEK Design Thinking Workshop specifically tailored for Burlington Stores. It shows interactive sessions, engaging group activities, and innovative brainstorming, emphasizing CONTROLTEK's commitment to developing customized retail solutions in collaboration with the Burlington Stores team.
Read More