Rentex Brings AV Providers Together At InfoComm 2018
Attending InfoComm, we spent time with Rentex, where we talked with Janné Mummert, Vice President of Business Development, and Bob Moisen, General Manager for the Chicago branch of Rentex.
Rentex is a wholesale company for rentals in the audiovisual industry. It notes that what makes the company stand out is the fact that, despite its size, it is very focused on providing customers with high-quality 24-hour service in addition to high-quality equipment.
Moisen, who says AV equipment has interested him since he was a kid, sees Rentex as the ideal partner for equipment needs.
"We provide rental equipment, anything ranging from the smallest projectors and audio equipment, up to the latest in video projection as well as LED, including our latest product, the Epson M29 series LED panels," He said.
Moisen believes that the big trend for the next year will be LED, as it has been for the past 10 years. Since LED projectors are the latest thing in LED, including from Panasonic, he anticipates growth in that sector in particular.
He agrees with Mummert that Rentex is at InfoComm primarily because it allows them to meet customers and suppliers face-to-face for the first time, sometimes for the first time in a decade. Since it only rents, Rentex did not bring any equipment but Moisen says they are there to show off their people, since service is what they sell.
"Anyone can rent you a widget or a projector, but what we bring is relationships," Mummert said.
Mummert says she is an AV geek and loves coming to InfoComm. In fact, she has been coming for the past 20 years and hopes to come for the next 20. She says she is excited to see advancement in laser projectors and switching equipment, and that she's also excited about getting lower prices in the latter. She also says she loves coming to InfoComm because this is a good opportunity to get people out of the office and see many of the customers Rentex had previously only spoken with on the phone. Overall, she is passionate about the technology and the people in the industry, saying she can't imagine doing anything else.
When it comes to Rentex, Mummert says to look for smart growth. In particular, it intends to continue growing with LED, and it has started looking at outdoor and curved LED in particular. Most of it's growth, though is geographical. They are opening stores in San Francisco, Nashiville, Atlanta, San Antonio and Austin.
Latest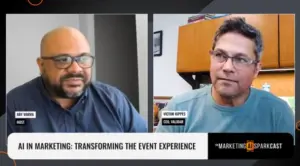 November 28, 2023
AI has been gradually changing the landscape of event technology at a very rapid pace. In an industry where staying ahead of technological trends is crucial, AI's impact on marketing and event management has become increasingly significant. As witnessed in the rise of account-based marketing and enhanced personalization, AI is effectively reshaping how events […]
Read More