Retailers Race to A Virtual Reality Revolution
Virtual reality (VR) is very quickly becoming commonplace, particularly in entertainment. Many smartphones feature augmented reality games, and no trip to Best Buy or the Microsoft store is complete without checking out the latest in personal VR kit or games. For a while now, VR has been readily adopted as nearly an industry standard in sectors such as design and architecture, but other industries that originally had great dreams of a VR revolution have struggled to apply the technology.
Retail is one area that is full of potential, and there are small steps toward a VR implementation. IKEA, for example, has an app that allows users to use their virtual and augmented reality (AR) capable phones to see how Ikea products will fit in their houses. The app links directly with the IKEA catalogue, allowing users to search or pick individual furniture items, and then place and move them around a space to see how they will look or if they will fit. The app also lets users take a picture of an item that they like and then matches it to a similar IKEA item. It is an immersive app, particularly for people just moving into new places with limited space.
For a few years now, brick-and-mortar stores have been struggling to make VR relevant. There were stores that people lucky enough to own an Oculus could virtually explore from their couch. There were smart mirrors, that helped people virtually try on clothing and makeup, but these, and other store-based tools, were expensive and not widely available; more of a fun experience than practical help. Now that most smart phones are VR capable, and VR headsets are more affordable, there is finally a space for useful VR retail tools. Audi, for example, has created a VR application that allows users to experience the interior of its cars without going to a dealership.
 Currently, perhaps one of the most impactful uses of VR in retail is not actually for the customers, but for the executives. It allows management to use VR to view marketing and promotional materials in-store before any money is spent on installing it in the store, allowing them to tailor the campaign and in-store experience by trying it for themselves, essentially walking the path of the customer.
While AR is currently more of a gimmick for consumers in retail, it is actually changing their in store experience by helping companies craft the customers' journey using VR tools. With the popularity of these innovations in other fields, the retailers that are able to make the most out of these tools will set themselves apart.
Latest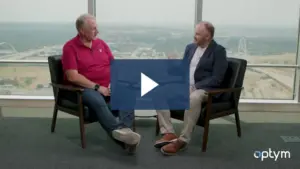 September 26, 2023
Making LTL shipping frictionless is more than possible; it's happening today. How can one challenge the status quo and embrace technological transformation in an industry that has historically resisted change? In this captivating episode of Semi-Related, Chris Torrence sets the stage for a riveting conversation with Todd Florence, the Chief Information Officer of Estes […]
Read More