Screen Innovations Broadens Its Horizons at InfoComm 2018
An Informal Chat with an SI King of ALR
At InfoComm 2018 held June 6-8 in Las Vegas, Marketscale had the chance to chat with Skyler Meek, Director of Marketing at Screen Innovations, an Austin-based manufacturer of hand-built screens. Specifically focused on quality and innovation, Screen Innovations fashion itself as the "Kings of ALR".
Screen Innovations' Recent Innovations
We asked Meek to give us an overview of SI's product lineup and what new products it's pushing out this year.
 "We're kind of known as the ALR guys, which is ambient light rejection. That means that you're not looking at a white or grey screen—it's a darker base material that has an optical quality to it. So, it's taking the light from the projector and projecting the light that's coming from above and from on the sides or below. So instead of having a washed-out image, you're starting with a darker base color but you're still reflecting those full RGB white values that you would get from a white screen." He asserted that this improves contrast levels and looks more like a flat panel," Meek said.
"We launched Black Diamond 10 years ago. It was really the first ALR screen widely available that was accepted—people liked it and it looked good. And we have been launching ALR screens ever since," he continued.
Meek went on to say, "We launched the Slate after that, which we took to 200-inches just recently. We launched it in a 189-inch tall version so we could do a 375" screen without a seam at all. Then we launched a bigger version of Black Diamond."
According to Meek, the Black Diamond Excel's 150-inch ALR diagonal is the largest optical screen on the planet without a seam.
"It's a huge ALR screen, basically a gigantic tv, that you can put on a wall, or with our Solo motorized screen which is lithium powered. You can drop that thing, pretty much set it up in five minutes without having to run any 110 power. And you've got a screen with ALR that's got a beautifully designed cassette that's very small. It takes seconds to install and you're ready to go."
ALR Screens Receive Interest From the Religion Sector 
Meek pointed out that practical applications for displays and screens is growing in nontraditional areas.
"We have several different types of clients, but I spoke with a lot of House of Worship people today who are putting these things in their education rooms. And like for the Zero G screen, which has 16 feet of drop with no black mask—they're putting those things in their auditoriums," he said.
"Instead of an LED wall where they could have spent $200 to $300 hundred thousand on a single screen, they're getting something for a tenth of the price. With our ALR, they now have an alternative that's not going to blow their budget out of the water," Meek added.
Significant Savings With Solo 
When asked which Screen Innovation product was garnering special attention, Meek stated, "Because of it's smaller case and that you don't have to hire an electrician to run 110 voltage and meet all the specs for that—like running conduit and that kind of stuff—a lot of people are putting Solo's in their board rooms and huddle spaces."
He additionally commented, "For bigger installs, they'll put 20 or 30 screens on a single campus. So, if you multiply that 20 or 30 times with an electrician, we're saving people sometimes $2000 on a single drop. When you scale that out, Solo becomes a really nice solution, especially again with the ALR—it's almost an unbeatable solution."
Lasers, Lasers, Lasers, and More Lasers 
Finally, we inquired whether one trend stood out to him as he walked the InfoComm 2018 floor room.
He responded, "I'm seeing every major manufacturer on the projection side go to laser as a light source instead of a traditional lamp. And to me I love that, because it just helps our conversation so much—just the fact that you're getting 20,000 hours of use. And just the fact that everything is going laser and how bright things are now."
He went on, "I remember back in the day—it was amazing if you had 800 lumens—and now we have 25,000 lumens. And Barco's got 30,000 lumen projectors! I mean it's just insane! But the fact that its laser, you don't have to replace anything associated with the light engine for 20,000 hours—that's huge…that's a huge deal!"
Latest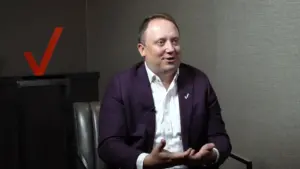 December 1, 2023
For a special episode of The Verizon Partner Network the focus was on the considerable role of partnerships in the Verizon Partner Program and the leaders shared their perspectives on the initiative. Their conversation brought about a lot of thought-providing context on the evolving telecommunications landscape. In today's era, collaboration and integration are key to […]
Read More