ScreenBeam Expands Collaboration Solutions Distribution Partnership with Exertis ProAV to the Americas and Canada
Santa Clara, CA. –December 1, 2020 – ScreenBeam, a global leader in wireless display and collaboration solutions, announced today that its existing partnership with Exertis ProAV now extends to the United States, Latin America and Canada. ScreenBeam began its partnership with Exertis in March 2020 as a strategic, U.K. supplier.
Kevin Kelly, Exertis ProAV President and CEO,  said, "We are delighted to welcome the ScreenBeam team to the Exertis ProAV family. Its solutions will fill the gap in our portfolio by providing our reseller and integrator partners with top performing wireless display and collaboration solutions that are in high demand by today's professionals who are working to stay productive, yet safe."
Today it's critical to implement contactless technologies that ensure workforce collaboration remain easy while meeting social distancing protocols. The 2020 Gensler Work from Home Survey reveals that the primary reason workers want to return to the office is interaction with colleagues. Enabling this interaction safely will require a reframing of what the office is.
ScreenBeam delivers with the only app-free wireless presentation system to eliminate all physical connectors between the user device and the in-room display. Simply tap to wirelessly present and markup content on in-room displays for a natural workflow. ScreenBeam can be integrated into a UC system to merge both technologies into a single collaborative experience.  Employee and guest devices have multiple ways to connect from corporate and guest networks, including local Wi-Fi mode, Miracast™ and dual network infrastructure connectivity so meetings can run smoothly and efficiently. ScreenBeam can isolate guests from any upstream network devices to ensure a high level of security while maintaining guest wireless collaboration capability.
"We have built up a strong and successful partnership with Exertis in the UK and are very excited to extend that relationship to the Americas and Canada," said Mike Ehlenberger, ScreenBeam vice president and general manager. "I expect our joint industry expertise, service and support will help fuel Exertis integrators' business, providing an immediate opportunity to address key needs of today's Pro AV market."
An immediate benefit of the expanded partnership is ScreenBeam's participation in the company's recent rebranding from Stampede to Exertis project. The ScreenBeam team is thrilled to be a part of such an exciting time and send congratulatory wishes to everyone. To watch the Exertis rebranding video, click here.
###
About EXERTIS
Exertis is a leading route-to-market and supply chain partner for established and emerging technology brands across consumer, business and enterprise, and is a wholly-owned subsidiary of parent company DCC PLC, an FTSE 100 company. After 38 years of profitability, Exertis continues to outperform the market, achieving revenues of £3.631billion in FY2019.
Exertis represents 1,400 global and emerging brands selling to more than 50,000 reseller and retailer customers focused on consumer, mobile, business, enterprise and IT Supplies. It also provides an industry-leading and innovative range of services and value-added solutions. With offices in Europe, North America, Middle East and China and with global reach via its supply chain services, Exertis employs 4,100 people in 21 countries.
 About ScreenBeam
ScreenBeam Inc., is a leading wireless display and collaboration provider that delivers an app-free screen sharing experience on any modern device to bring intuitive wireless collaboration to any meeting space or classroom. ScreenBeam is Microsoft's co-engineering partner for wireless display enabling wireless Office 365 experiences. ScreenBeam solutions are used as the validation platform for wireless display functionality by companies like Microsoft and leading PC OEM and device companies. Headquartered in Santa Clara, CA, ScreenBeam has offices across the United States, Europe and Asia. To learn more about ScreenBeam, visit https://www.screenbeam.com.
ScreenBeam and the ScreenBeam logo are registered trademarks owned by ScreenBeam Inc.
Latest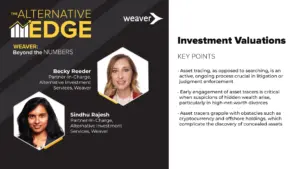 December 4, 2023
In this episode of The Alternative Edge, a Weaver: Beyond the Numbers Podcast, host Becky Reeder, an audit partner and co-leader of the alternative investments practice at Weaver, engages with Sindhu Rajesh, an Alternative Investment Services Partner with Weaver. They unpack the complexities of venture fund valuations, offering critical insights into industry dynamics and best […]
Read More