A Talk with Townsend: RMG Networks at DSE 2018
MarketScale recently attended DSE 2018, and we caught up with Dina Townsend, VP of Retail Practice at RMG Networks, a 35-year provider of visual communications and content management software, to learn more about their latest offerings.
RMG was in the Intel booth, and Ms. Townsend had a lot to say about RGM's responsive shelf concept, powered by their Korbyt application. The responsive shelf has a full media player imbedded in the shelf, running the Korbyt central management console. Townsend explained that the LCD shelving is particularly useful in a retail environment, offering exceptional visuals, including advanced granular font capabilities, in LCD for multi-media video. She brought several integrated technologies to demonstrate at DSE. Among these were the bar code reader and the integrated camera.
Townsend described the bar code reader as "a piece of triggered media that allows the user to pick up a product, scan it, and have that code change the content that actually plays on the screen." The integrated camera, which is another option, gives back "valuable data analytics as to who's looking at the screen—some basic demographics of the audience to trigger the most meaningful content on all the screens."
Since the product is standard shelving, the screens can bolt onto an existing shelf. That means they're a useful addition to existing shelving rather than a replacement. This fact as well as the fact that, as Townsend observes, "they're smart, they're responsive, they're centrally managed, and they are not dependent on Wi-Fi to run, so if you lose connectivity, your instore experience continues," means these shelves are an ideal addition to your visual communications infrastructure.
With these kinds of features, customers are certain to be oohing and aahing while retailers reap the benefits. So, it seems certain responsive shelving will soon come to a retail store near you, and probably to every retail store in the near future.
To learn more about software innovation at RMG, visit their website here.
Latest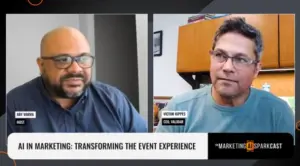 November 28, 2023
AI has been gradually changing the landscape of event technology at a very rapid pace. In an industry where staying ahead of technological trends is crucial, AI's impact on marketing and event management has become increasingly significant. As witnessed in the rise of account-based marketing and enhanced personalization, AI is effectively reshaping how events […]
Read More