Top Insights from Pro AV Leaders as the Industry Surges Ahead
How does digital signage fit into building trends?
"Touchless technology and interactive wayfinding will continue to be important trends in digital signage. Voice, gesture and mobile controls are becoming commonplace as organizations look to reduce physical touchpoints and promote accessibility to all. Digital signage and content management software continue to be more commonplace and can promote interaction, two-way communication and seamless interoperability across various displays.
"Interactive wayfinding via embedded QR codes and mobile control will become more standardized and support organizations of all sizes, especially as buildings continue to reopen post-COVID. A building visitor can simply walk up to a digital sign, point their mobile phone at a QR code and instantly be connected to the same map with wayfinding functionality from their own personal device. And this functionality is not limited to malls or transportation hubs — practically any building can benefit from implementing signage that can be accessed via QR codes.
"On the software front, room booking, hoteling and hotdesking will also give managers new ways to manage efficiency, review data analytics on room usage and ensure safety compliance. Digital signage is on the rise to become a key and necessary technology in the most highly-trafficked industries, including retail, healthcare, education and more."
Tomer Mann, EVP, 22Miles
In the last few years, how has AV design improved or adapted to better make better use of technology?
"In the last year, in particular, enterprise AV has had to shift to meet the new ways that companies are working. When the pandemic first struck, enterprise AV/IT teams were forced almost overnight to make changes to rely on cloud-based SaaS collaboration solutions to support workers in being more effective while working remotely. They quickly learned that on-premise systems could not scale to meet the needs of their global workforce needing to collaborate remotely. Now, these teams are evaluating and expanding upon the solutions that they have already deployed and managing and monitoring these spaces at scale.
The pandemic has also accelerated the adoption of voice and video communication technologies. Collaboration hardware that is compatible with multiple software platforms will also allow for BYOD policies that let workers keep the devices they already have and enable them to move from home to office without troubleshooting or switching devices. As companies reopen or reconfigure office spaces and invest more heavily in technology that will keep hybrid teams connected, this technology will play an even more important role than it did pre-pandemic."
Andrew Gross, Director, UC Enterprise, Crestron
"There has never been a more important time to assess how the workplace must shift and how technology will play a role. The meeting rooms and spaces that employees will return to must look much different than the ones that they left. Interactive collaboration displays have been a growing product segment in AV in recent years, and, now, as workplace needs change with hybrid work, they are the most robust and impactful way to ensure that the in-person collaboration that teams have craved for so long can happen effectively.
Remote work will still be an important benefit for many, but it also means that the back-and-forth between the home and physical office has the potential to disrupt both employee workflow and organizational AV/IT maintenance. The best approach is for enterprise decision-makers to develop a digital transformation strategy that supports technology that is plug-and-play, has native integration for the increasing number of enterprise services and platforms that employees use and offers cloud-based maintenance and support."
Dana Corey, GM, Avocor
Follow us on social media for the latest updates in B2B!
Twitter – @MarketScale
Facebook – facebook.com/marketscale
LinkedIn – linkedin.com/company/marketscale
Latest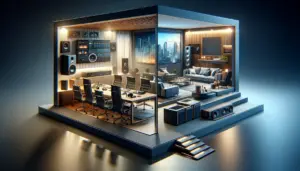 November 27, 2023
In this episode of "Pro AV Today," host Ben Thomas sits down with Audra Kinsley of Sonos Professional to unpack a topic that's causing (sound) waves in the audio industry: the fusion of commercial and residential audio systems. As we navigate through a landscape where consumer and professional audio worlds are increasingly intersecting, Sonos steps […]
Read More