Virtual Experiences Should Not Be Recreations of Physical Ones
Whether you're an integrator, a designer or simply a label-defying creative, the experience is everything. Host Bryan Meszaros explores the story behind the exhibit to understand how a carefully crafted experience traps into the human experience to connect people to place.
The evolution of experience design is here. It certainly wasn't a static element for brands, but the pandemic certainly disrupted it like never before. Talking about this evolution, or possible revolution, Experience by Design host Bryan Meszaros welcomed Christophe Castagnera, Head of Connected Experiences at Imagination. Imagination is an experience agency that offers consulting, design, and creative services for brands worldwide. Castagnera serves as a chief strategist and has over two decades of experience telling brand stories.
"The last year has challenged the way we create experiences. It was a lot of reimagining. There were opportunities to seize the moment, so I wrote a Playbook discussing technology, curated experiences, and building at-home experiences," Castagnera explained.
In the last year, the industry had many lessons learned moments. "Investing in technology was a possibility, but not everyone had the funds. People were still touching their mobile phones, so that became an avenue," he shared.
Trying to recreate an in-person experience online didn't really work. Those companies that succeeded found new ways to do virtual rather than mimicking physical experiences. The test and try model was good for many brands. "Some were being bold, they learned things, and are being rewarded. Where others lost share of voice that were passive."
Castagnera offered several examples of brands' creative moments. "Rabbit Hole bourbon had staff become virtual hosts for consumers in their home, and they suddenly were having these conversations. Around 70% of people are up for a brand experience in their home."
Castagnera also talked about VR opportunities discovered. "If you can build a proper brand world around it, it works. Otherwise, it's just bad 'reality.' The ecosystem has to be rich."
Join host Bryan Meszaros on Experience by Design every other Wednesday as he explores the latest trends and solutions helping craft the world's most intriguing experiences.
Latest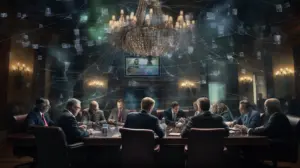 October 3, 2023
In August 2023, the National Institute of Standards of Technology (NIST) put out a request for comments on the Preliminary Update from the Internet of Things Federal Working Group (IoTFWG), which aims to provide the nation direction on how to improve IoT adoption and expand its use cases for the future of industrial, corporate, […]
Read More