Watch: DisplayNotes to announce new tech at ISE 2018
DisplayNote Technologies is preparing to announce Mosaic, its latest software solution for collaborative workspaces, at ISE. Mosaic utilizes multi-team video and voice capability for real-time collaboration across locations. Users can push content directly from cell-phones onto the platform, where everyone can edit in real-time. All Mosaic data is encrypted before transmission and can be saved or permanently deleted when work is complete.
For more information on DisplayNote, be sure to check out their website!
Also, for the latest updates on the Pro A/V world subscribe to our publication below.
Latest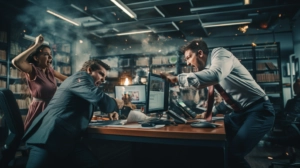 September 22, 2023
The kind of news that is delivered everyday serves as a grim reminder of the escalating violence across the U.S. Evidently, the need for proactive measures to ensure safety has never been more pressing. Such violence is not limited to any particular locale. It's actually permeating in so many different areas once considered […]
Read More