Ways to Have Fun with Your LED Displays
Today, the many benefits of cutting edge LED technology are impacting all aspects of everyday life. LEDs are compact, emit little to no heat, and use just a fraction of the energy of incandescent lighting. In addition, they are flexible and come in many colors. As LED technology continues to evolve, people are coming up with truly innovative and creative uses for this versatile lighting option. So let's take a look at some of the imaginative ways LED displays are currently being employed.
LED Strip Tape
This innovative LED conduit comes on a roll—literally! Simply roll the strip out and cut to any size to add lighting accents under cabinets, around poster frames, on stairwells, or around audio systems. Lightweight, multipurpose, and available in a wide variety of colors, LED strip tape is also waterproof, so it can even be used outdoors.
Framing Screens and Diffusion Panels – Take advantage of the brightness LED strip tape offers by placing strips behind diffusion panels to soften their effect and add a unique element to a stage show. And make stages or settings pop by using simple framing materials and LED strip tape to create colorful screen frames.
Tubes and Columns – Place LED strip tape inside clear plastic tubes to make a colorful border to line baseboards and doorframes, surround the proscenium of a stage, or even create a marquee. Or "super size" tubes to create LED columns that add an impressive facet to a stage show or trade show booth.
Wallpaper and Ceiling Panels
Using LED wallpaper and ceiling tiles in your office, lobby, or home offers a unique, attention-grabbing opportunity to stand out from the crowd. Not only do LEDs provide better quality light than headache-inducing fluorescents, they come in a wide variety of colors and patterns that not only complement any décor but can tie in with an organization's branding.
There are so many interesting and fun uses for LED displays, limited only by one's imagination!
Latest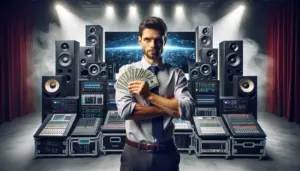 December 8, 2023
Mastering AV sales strategies in a global professional audio-visual (Pro AV) market, poised to reach $79.2 billion by 2028, requires much attention to detail. The surge in demand from corporate, government, and institutional sectors, driven by the need for enhanced productivity and efficient working environments, gives AV sales pros a lot of opportunity. In […]
Read More