Why the Middle East is Primed for an Entertainment Revolution
It's no secret where the current heart of the Middle East's entertainment and attractions industry lies – Dubai, the most populous city in the United Arab Emirates with more than three million people and the beneficiary of tremendous growth over the last five decades, is a world-renowned hub of modern entertainment.
Abu Dhabi, the UAE's most populous city aside from Dubai, isn't far behind, and these two UAE giants are likely at the forefront of most people's minds when they envision the Middle East's entertainment and attractions industry.
That's all about to change.
The Middle East primes the pump for expansion
Though Dubai and Abu Dhabi may have a head start, the rest of the Middle East represents perhaps the world's largest potential market for new themed entertainment, with audiovisual installations prepped to help drive that growth.
While Dubai is still king thanks to a vast and far-reaching commitment to leverage the boom provided by its oil to shift gears to a tourism-based economy, the International Association of Amusement Parks and Attractions labeled the Middle East and North Africa the fastest-growing area for theme parks in 2018. In 2022, the IAAPA said, the region is expected to spend nearly $550 million in the sector.
That potential boom is being helped along by Saudi Arabia.
"The Middle East marketplace is probably the largest marketplace that we have in EMEA for the leisure markets," said Keith Stentiford, Electrosonic Head of Sales EMEA. "Some of the opportunities that we've identified over the last six months lead us to believe that the Middle East is our largest area that we should be focusing on. Specifically, Saudi is growing exponentially."
Saudi: A Kingdom ready for an entertainment boom
Part of that growth comes from the Saudi government's commitment to the entertainment industry. Saudi Crown Prince Mohammed bin Salman has committed more than $60 billion to entertainment in an attempt to follow in Dubai's footsteps and ease reliance on oil, and the Saudi government has its hands in industries and businesses as far-flung as U.S. professional wrestling.
"New cities are being built. Entertainment areas are being developed," Stentiford said. "We believe that, with the services that we have in our offering, it will be well-linked to what we're trying to do."
Alongside this growth has come the rise of the Saudi Entertainment and Amusement (SEA) Expo, an event aimed at capitalizing on the Kingdom's desire to fulfill its vision for the next decade and become a major player in the entertainment, attraction and tourism industries by 2030.
Leveraging the Middle East's tremendous potential
Of course, ideas are just ideas, and without commitment to fleshing them out into bona fide showstoppers, they'll stay that way.
So, how can the world's AV superstars capitalize on the region's potential?
For a start, they can look to the past.
In Abu Dhabi, Electrosonic teamed with Thinkwell group to take part in the completion of the world's largest indoor theme park – Warner Bros. World Abu Dhabi.
The park is a modern marvel complete with 29 rides and attractions, for which Electrosonic and Thinkwell tag-teamed full audio, video and show control solutions that exceeded expectations and helped inject industry-leading experiences into the park.
The rides and attractions included high-speed rides, coaster-type rides, a 4D flying experience, dark rides and more.
It's these dark rides, in particular, that could play a critical role in forging the future of Middle Eastern entertainment.
As seen with Abu Dhabi's massive, indoor Warner Bros. park, entertainment and attractions that avoid the heat of the desert and utilize ample space available could provide a clear indicator of the pulse of the region's entertainment growth trend.
Dark rides are natural fits for these spaces, providing engaging and one-of-a-kind experiences within the constraints of walls and indoor environments.
When utilized correctly, dark rides can make the most of today's AV technology, allowing designers to work with nearly infinite potential within the digital playground offered by these dark rides and leverage cutting edge visual, audio and motion technology.
With dark rides, AV professionals can leverage:
State-of-the-art, high-definition displays
Advanced projection
Interactive technologies
4D and 3D technology
Dynamic sound systems
The takeaway is clear – where innovative entertainment installations go, dark rides will follow.
The AV implications of an open-for-business Middle East
Beyond just dark rides, the entire suite of modern AV installations and capabilities will be put to the test as the Middle East looks to make good on its potential for entertainment growth.
If past results are any indication, AV will pass with flying colors.
Theme parks are not nearly as engaging without the leveraging of impactful AV solutions that drive unforgettable customer experiences.
Display technology, in particular, has the potential to wow customers from the moment they step on the grounds of any entertainment venue or attraction, providing an immediate sense of the overall tone of an installation.
It will also take attention to detail and a commitment to creative and lasting uses of that cutting-edge technology, however, as technology for technology's sake does not innovation make.
AV installations must leverage today's awe-inspiring technological solutions in ways that don't feel forced and lend themselves to the entire purpose of a site. It's not about simply throwing technology in the face of customers – it's about making sure that technology tells a story all its own.
As the Middle East continues to morph into a proving ground for that concept, Electrosonic is ready to meet the challenges that will surely follow head on.
Through industry-leading talent, innovation, reliability, end-to-end support and range, Electrosonic is primed to be a key player in the blooming Middle Eastern entertainment and attractions industry, and a lengthy list of successes proves it.
Ready to learn more about how Electrosonic is leveraging its AV capabilities and expertise around the globe? Click here to learn more about how we can put our more than five decades of expertise to work for you.
Latest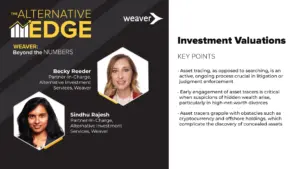 December 4, 2023
In this episode of The Alternative Edge, a Weaver: Beyond the Numbers Podcast, host Becky Reeder, an audit partner and co-leader of the alternative investments practice at Weaver, engages with Sindhu Rajesh, an Alternative Investment Services Partner with Weaver. They unpack the complexities of venture fund valuations, offering critical insights into industry dynamics and best […]
Read More