75 Years and Counting at Bauer Built
April 18th, 2019, marks the company's 75th Anniversary, and as celebrations begin, it's important to look back at how Bauer Built got to where it is today.
Bauer Built, Incorporated (BBI) was founded when G. F. "Sam" Bauer who had been working for City Service, established a Bulk Oil Jobbership in Durand, WI. This business, known as Bauer Oil Company, sold petroleum products to service stations and farm accounts and was supplied by the W. H. Barber Company from Minneapolis/St. Paul. The bulk plant was on land leased from C. M. St. P. & P. Railroad and was purchased from Golden Rule Oil Company. This Bulk Oil Jobbership is still in existence today; however, it operates as Bauer Built Oil.
Shortly after he founded the company, Sam enlisted and went to serve his country in World War II. His brother Ray stepped in to run the company in Sam's absence. After the war, the brothers became full partners in the business and began to build a Midwest powerhouse.
While the company started with a focus in oil, tires quickly became a central part of the Bauer profile. Sam and Ray signed a franchise agreement with Firestone, and while they were initially a wholesale operation running a service center in Durand, they opened a new tire shop in 1952 branded as a Tydol Service Station. In just a few years, the Bauer brothers would go from selling tires wholesale, to being key pioneers in the manufacture and distribution of retread tires. This switch was a turning point for the company and after taking over an abandoned brewery as the home for their retread manufacturing plant the company reached its first $1 million in sales in 1956. As retread tires became more and more critical to the company's strategy, a name change seemed appropriate and in 1959 Bauer Oil changed its name to Bauer Built, Incorporated.
Sam bought out his brother Ray in 1963 and then he sold the major portion of his interest in the company to his sons and sons-in-law with Jerry Bauer becoming President on January 1, 1977. As the company enters its 75th year, with Jerry Bauer as Chief Executive Officer and Chairman of the Board and Tad Bauer as President and decades of acquisitions helping to spread the Bauer Built name and reputation across the Midwest, the future looks brighter than ever.
With 40 Tire & Service Centers, 8 MRTI Retread Plants, 3 Wheel & Rim Refinishing operations and the original Bulk Oil Business, in 10 states across the Great Plains and Upper Midwest, Bauer Built Tire & Service continues to be a leader in retread tire manufacturing and sales of new commercial, passenger and ag tires and related services, ensuring we meet our clients' service needs, regardless of whether it's a single driver or an entire fleet. Afterall, our customer commitment continues "to provide a level of service that is the best and then strive to make it better."
We look forward to another 75 years in business providing value and key solutions for our customers and hope that you are along for the ride. Join us in our celebration.
Latest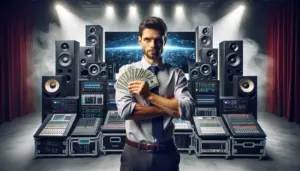 December 8, 2023
Mastering AV sales strategies in a global professional audio-visual (Pro AV) market, poised to reach $79.2 billion by 2028, requires much attention to detail. The surge in demand from corporate, government, and institutional sectors, driven by the need for enhanced productivity and efficient working environments, gives AV sales pros a lot of opportunity. In […]
Read More