Composite Use in the Aerospace Industry
Since the birth of aviation, creating enough lift to overcome the weight of the aircraft to achieve proper altitude has been an ongoing challenge. Year after year, designers have been compelled to find materials that were lighter, but with sufficient strength to withstand the high stresses created during takeoffs and landings, as well as turbulent air. Lighter metals, such as aluminum, changed the landscape of aviation dynamics in the early years of the 20h century. But today, aircraft designers are increasingly turning to composites to take the aerospace industry to the next level. Let's take a look.
Composite Materials Give Aerospace a Lift
A composite is just what it sounds like: combining two dissimilar materials with different physical and chemical properties to produce a unique material incorporating the strengths of both. The ideal composite will be sturdier, lighter, and more cost effective than the traditional materials typically used in a given application.
Fiberglass, one of the most common composite materials, was first used in aircraft design in the 1950s for the Boeing 707 passenger jet. In the 1960s, carbon fiber was incorporated into military aircraft and jet engines. As materials engineering grew more sophisticated in the following decades, composites continued to be employed in an increasing number of aircraft components. The Boeing 787 Dreamliner, for example, is made up of 50% composite materials, such as advanced carbon sandwich composites, carbon laminates, and carbon fiber-reinforced polymers.
Composite Materials Outperform Antiquated Metals
Composites allow the aerospace industry to reduce the weight of aircraft when compared with those made from traditional aluminum and steel parts, while retaining or even increasing performance. Composites offer strength and stiffness—major considerations for aerodynamic design. They also have increased temperature resistance and a low coefficient of thermal expansion, both important to aircraft construction.
Composites are used throughout aircraft, but chiefly in the fuselage and in the wing skin, flaps, rudders, and ailerons. In helicopters, they are used in the main and tail rotor blades. And in aerospace vehicles, they are used not only in the crafts themselves, but also in the payloads they carry, such as satellites, missiles, and rockets.
The Benefits of Composites are Clear
Composites offer a number of benefits when used in aerospace applications:
20% to 50% reduction in component weight while providing higher strength
High impact resistance and damage tolerance
Increased thermal stability
Fatigue and corrosion resistance
Simplified structural component assembly
The Future is Bright for Composites in the Aerospace Industry
Based on the progress currently being made in composite construction and manufacturing techniques today, the use of composites in the aerospace industry is sure to intensify. Magnum Venus Products (MVP) is the premier manufacturer of composite application equipment for the aerospace industry. MVP has over 60 years of experience delivering superior customer service and the most innovative products, services, and solutions.
Learn more about how MVP is serving the aerospace industry by visiting http://www.mvpind.com/announcements/composites-in-aerospace/ today!
Latest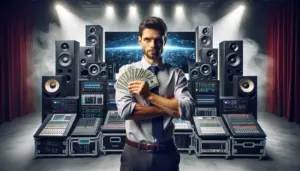 December 8, 2023
Mastering AV sales strategies in a global professional audio-visual (Pro AV) market, poised to reach $79.2 billion by 2028, requires much attention to detail. The surge in demand from corporate, government, and institutional sectors, driven by the need for enhanced productivity and efficient working environments, gives AV sales pros a lot of opportunity. In […]
Read More