Highway Ready Part 2: How Commercial Drivers Can Prevent Collisions When a Breakdown Occurs
Numerous diversions can sidetrack a driver's attention these days—from cell phones to excited children on board to brightly flashing lights that seem to hypnotize rather than warn—and all it takes is one distracted motorist for a tragedy to occur.
All motorists should drive with extreme care and caution to avoid injury or crashes. This is particularly true when semi-trucks are pulled to the side of the road. According to the National Highway Traffic Safety Administration (NHTSA), trucks are 3.2 times more likely to be struck in the rear than cars. Thus, it's imperative that truck drivers engage in best breakdown safety roadside practices, just as they do to improve road safety while driving.
Steps Truck Drivers Should Take When They Break Down on the Highway
For all truck drivers and fleet managers, it's best to be prepared for the unexpected because most breakdowns aren't predictable. "Preventative maintenance is one of the soundest methods of reducing the odds of a breakdown," said Mechanical Service Director Greg Lombardi at Bauer Built Tire & Service. "This includes thorough pre-trip checks to find any issues before hitting the road, en route checks to ensure loads haven't shifted and mechanical components are functioning correctly, and post-trip checks to ascertain whether any problems have occurred while driving." But when a breakdown does happen (and it will!), being aware of the right steps to take could save lives.
Here are some important steps every semi-truck driver should take if they breakdown on the highway:
Find the widest pullover spot available
Turn on the truck's flashers
Ease off the road slowly, to an off-ramp rather than the shoulder, if at all possible
Put on reflective outerwear so other drivers can see you
Set up flare triangles at 50', 100', and 150' intervals
Tilt the hood up to indicate the rig is broken down
Assess the problem to determine whether repairs will necessitate roadside assistance
Contact dispatch to report the problem
Keep tools handy should the issue be self-repairable
Don't make sudden moves on the roadside or step into a traffic lane
In close proximity to speeding traffic, drivers of broken-down rigs are exposed to many dangers. Carrying the necessary warning gear, staying calm and remaining alert can ensure the safety of yourself and others.
What Other Drivers Should Do If They Encounter a Broken-Down Semi-Truck
Additionally, drivers of cars and non-commercial vehicles need to know what to do should they encounter a broken-down semi-truck on the highway. Every driver can avoid a possible collision with a stalled truck by taking these precautions:
Never drive under the influence of drugs or alcohol
Pay attention to the road—not only in front of you, but to the sides and rear of your vehicle—to ensure you have plenty of time to react appropriately to unexpected roadway risks. Truck drivers are scanning about 1 mile ahead to prepare for any situation.
Be aware of emergency lighting on the roadway—it may indicate a stalled vehicle on the shoulder ahead (also, beware of the moth effect–bright lights can be distracting/mesmerizing to drivers during nighttime hours—remain focused on the task at hand: safely maneuvering around roadside incidences and obstacles)
Slow down immediately
Be on the alert for service providers in and around the disabled vehicle who are making repairs and who might need to work slightly in the lane of traffic. Strange things can happen like a lug nut rolls into the roadway, a strap is hanging loose or a tool drops all of which have to be retrieved.
Change lanes when possible to provide ample, safe space (in most states, the Move Over Law mandates that a motorist move to an adjacent lane farthest from where an emergency vehicle or other certain vehicles with flashers engaged are parked; in some states, the law has been expanded to include any fellow vehicle stalled on the shoulder)
Bauer Built: Safety First
When a commercial truck is on the shoulder, there are risks to both the truck, the driver and the passenger cars that come upon it. Truck drivers should follow safety practices to ensure that their rig is visible to other drivers and as far from the driving lanes as possible. And every motorist must be vigilant as they drive—there is really no substitute for having a clear view and being aware of potential hazards ahead.
Delivering superior tires and service to commercial drivers is our business at Bauer Built Tire & Service; but safety first is our guiding principle. As such, we want to ensure that oncoming drivers, the drivers of disabled vehicles (our customers), and the techs (our employees) who are replacing a tire or providing repairs are all safe when a rig is unexpectedly stuck on the side of the highway.
Learn more about why Bauer Built is a trusted partner for commercial fleets.
Latest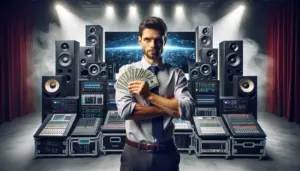 December 8, 2023
Mastering AV sales strategies in a global professional audio-visual (Pro AV) market, poised to reach $79.2 billion by 2028, requires much attention to detail. The surge in demand from corporate, government, and institutional sectors, driven by the need for enhanced productivity and efficient working environments, gives AV sales pros a lot of opportunity. In […]
Read More