Planning an Event? Reasons to Consider Using an Outside AV Provider
When planning a conference, meeting, or some other lively occasion, most venues will offer a number of extra services that promise a bigger, better, and bolder event. These added amenities can be quite tempting—you won't have to find a caterer, bring your own alcohol, or hire an outside AV provider. But to ensure you're getting the best of culinary delights, top-shelf liquor, or the professional AV equipment and support that will take your event to the next level, it pays to do a little research.
My Mama Told Me, "You Better Shop Around"
It's true…many venues have an AV provider on site providing equipment, and house staff to set up and operate the gear. While there's certainly nothing wrong with using a venue's in-house AV services, it's essential that you shop around to make sure you're getting sufficient bang for your buck and the best production value for your event and needs.
Because most event planners are looking for convenience, venue owners like hotels have discovered that, in taking some of the worries off of the organizer's plate, they can bank a few more Benjamins by providing in-house AV services. However, these venues are now demanding higher commissions from their in-house providers, who then pass that higher internal cost on to the customer. As prices soar for you, quality declines as corners are cut to increase commissions. And should something go wrong—as it inevitably does—venues and in-house providers are quick to point the finger at one another, unwilling to take any responsibility for issues that may arise, leaving planners to both bear the blame and resolve any problems themselves.
Primary Focus vs. Ancillary Offerings
When a service isn't a company's primary offering, not only is less attention given to detail but staying current with the latest technology or ongoing training to ensure a highly trained staff are typically far from top of mind for these businesses. Yet, cutting-edge equipment and innovative, inspired proficiency are precisely what you would expect and receive from an external AV company.
External AV providers have a great deal of experience with a variety of venues and can bring forward-thinking, radical ideas to the table. They will be experts in event lighting and pros at setting up and operating advanced audio and video equipment (from video screens to LED walls to speakers and more). They deliver creative presentations through eye-catching mediums that will captivate audiences via vibrant imagery, heart-pounding audio, and mood-enhancing lighting effects.
While in-house AV can provide sufficient services for basic AV, an external AV company can take your event to the next level. Often times creative, outside of the box AV needs will be outsourced where you will pay a premium upcharge for in house support and services, not experts. Simply put, when compared to in-house AV services, you'll find that there are many, much better, creative-minded firms out there focused solely on AV production, using the latest in technology to ensure your event not only meets but exceeds your vision.
When You Opt for an Outside AV Provider
The decision was tough—you had to decide between convenience, overall costs, the level of support and experience you'd receive, and the quality and functionality of the equipment that will be used. You did your research, asked for referrals, testimonials, and recordings of their previous events from at least three external firms as well as the in-house firm. With all factors considered, you opted for an external provider. You made the right decision.
However, be aware that contracts of many venues may include a clause that either specifies that an in-house firm must be employed for any event on their property or will charge a percentage when an outside firm is selected. In some instances, venues can have AV providers that are "exclusive" to the property and its events on certain services. That being said, always negotiate so you have the power to make the decision that is best for your event.
While hiring an outside provider may add additional dollars to an event, their expertise, support, and pride in ownership typically outweigh any added costs. Further, if a problem arises, you can rely on a professional AV company to take responsibility, correct any hiccups, and keep an event flowing flawlessly. You also won't find unexpected fees at the end of the event from outside AV companies like you sometimes will with in-house providers.
An Elite Event Deserves Elite Multimedia
Elite Multimedia specializes in concert touring, corporate live event production, and production gear rental. We offer full-service Audio-Visual Production, Video Production, and Live Event Lighting and LED, providing the most comprehensive, high-quality audio-visual production support and services to create unforgettable experiences that wow audiences around the world. For more information on how Elite Multimedia Productions is the right partner for you, visit www.elitemultimedia.com, follow Elite on Twitter at @EliteMultimedia, or find us on Facebook or Instagram.
Latest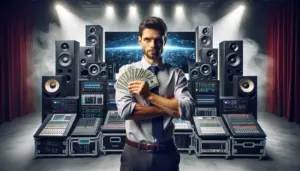 December 8, 2023
Mastering AV sales strategies in a global professional audio-visual (Pro AV) market, poised to reach $79.2 billion by 2028, requires much attention to detail. The surge in demand from corporate, government, and institutional sectors, driven by the need for enhanced productivity and efficient working environments, gives AV sales pros a lot of opportunity. In […]
Read More