Revitalizing Playgrounds on Budget
There is nothing quite as idyllic as a sunny park with a beautiful playground, and nothing quite as depressing as a tired, worn out one. Parks are a huge part of the public face of a community and can help attract young families to a neighborhood. They are social spaces, places for families, friends, and neighbors to meet. They should be joyful, happy places that kids are excited to enjoy. But dilapidated play areas can do just the opposite.
Unfortunately, rebuilding a playground can be cost prohibitive. Many public parks are funded by the surrounding community, which may not be able to afford the expensive renovations, or by local governments with tightly monitored budgets. Since playground equipment is usually well built and well designed, it can be hard to justify replacing perfectly functional elements just because it looks outdated.
PLAYTIME has the solution. By utilizing the existing play infrastructure, PLAYTIME can craft custom additions to give your playground a completely new look and experience! PLAYTIME's imaginative play structures and elements can be specially designed to match your play area or theme. Thanks to an innovative material called GFRPMAX (Glass Fiber Reinforced PolymerMAX), PLAYTIME can give your park the facelift it needs to look fun and inviting again.
This unique material can be either soft or hard coated depending on the application and allows you to create custom additions to your park's play elements. These additions can be affixed to an existing structure, such as a slide or climbing wall, or freestanding, such as a themed, climbable element. By utilizing the existing infrastructure PLAYTIME can completely transform a tired park into a vibrant and exciting play area that will last through whatever kids and the elements throw at it. The GFRPMAX hard-coated and GFRE soft-coated play elements are extremely durable, UV-stable, and fade resistant. They also meet ASTM F-1487, the Standard Consumer Safety Performance Specification for Playground Equipment for Public Use.
Our impressive portfolio of park and playground revitalization projects span the country from New Jersey and Florida to California, and take inspiration from the local communities. In Secaucus, NJ, PLAYTIME worked with locals to re-create a Zoo themed playground that has quickly become the most popular play destination in town. The project features our innovative GFPRMAX material, and includes climbable versions of everyone's favorite zoo animals, like giraffes, elephants, and cheetahs. In Sanford, FL, our park took on a Florida swamp theme featuring gators, giant turtles, and a ladder made of lily pads. Meanwhile, in Bogdanovich, CA our San Pedro area rec-center took inspiration from one of coastal California's most famous residents, Wally the whale. Along with sweeping views of the LA country coast and the Port of Los Angeles, our park includes a massive climbable Wally and boat themed play structures that, combined with the breathtaking view, can transport kids on the pirate, or whale conservation, adventure of their dreams.
PLAYTIME offers communities an affordable way to revitalize their public parks and playgrounds in order get families and neighbors back together. With our innovative approach and advanced materials, PLAYTIME can create a vibrant, imaginative, and fun location that will inspire community pride, and have kids excited to enjoy their park once again. Our impressive portfolio of park revitalization projects span the country from New Jersey and Florida.
To learn more and view our portfolio of fun, creative playground makeovers, just visit https://playtime.com/environments/parks-and-rec/.
Read more at playtime.com
Latest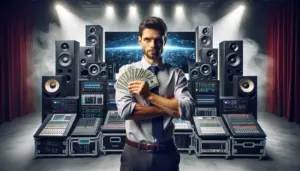 December 8, 2023
Mastering AV sales strategies in a global professional audio-visual (Pro AV) market, poised to reach $79.2 billion by 2028, requires much attention to detail. The surge in demand from corporate, government, and institutional sectors, driven by the need for enhanced productivity and efficient working environments, gives AV sales pros a lot of opportunity. In […]
Read More