The Fascinating History of Playgrounds
We all remember spending summer days trying to conquer the monkey bars and seeing who could go the highest on the swings. Playgrounds not only create wonderful memories, but they also play a critical role in the social, cognitive, emotional, and physical development of children starting in early childhood. Designed as a cheerful place of enjoyment, the modern playground is brimming with a diversity of equipment. The best playgrounds function as natural tools for children to explore and develop resiliency.[1] Playgrounds have been a part of children's lives for more than a hundred years. Understanding their fascinating history helps us to envision their future.
Earliest Playgrounds
Manchester, England, was the home of the very first playground, but German innovators receive credit for the overall idea.[2] The goal was to encourage children to play safely and fairly with one another. In 1848, Henry Barnard sketched the first layout, which included a shaded area for teachers and a play area with wooden blocks, toy carts, and two rotary swings. Meanwhile, children in the U.S. played outdoors and even in the streets in sometimes dangerous conditions, and this was especially true in big cities. "Play streets," or streets largely ignored by road traffic, flourished in urban neighborhoods as a safer area for children to play.2 Frustrated by the state of children's affairs, in 1885, a group of women in Boston decided that children had a right to play in the dirt, and the sandbox concept appeared, then known as "sand gardens."[3]
First American Playgrounds
The first real playground in America opened in 1887 at Golden Gate Park in San Francisco. It offered the classic options: swings, slides, and a carousel.2 Then in 1912, criticism surfaced regarding certain playground equipment, and New York banned climbing structures for their city's playgrounds. In a thriving era of industrialism and urbanization, playgrounds became a solution to cramped quarters, poor air quality, and social isolation. The idea of playgrounds as a platform for socialization, creativity, physical health, and emotional well-being was born. Keeping children off the streets and engaged in healthy activities was a key objective.[4]
Mass Production and Regulations
Then, in the 1930s, adventure playgrounds became popular. Created on empty lots and offering tires and "junk" and a handful of play structures, they were a new and exciting option for children. This was until they began to collect unwanted junk over time.[5] Into the 40s and 50s, the Parks Department focused on playground reform: expanding spaces for organized and healthy play became a priority and was seen as a deterrent for miscreant behavior and a way to prevent injuries and other childhood problems. In the 1960s, playgrounds hit mass production, and in the 1980s, child injury lawsuits began to pop up, prompting industry regulations and safety guidelines for playgrounds. Those regulations stipulated no sharp points or edges, gaps must measure less than 3.5 inches or more than 9 inches, and structures more than 30 inches high must be at least 9 feet apart.[6]
PLAYTIME Hits the Playground Scene
PLAYTIME was founded in 1998 and has been designing and manufacturing playgrounds across the globe ever since. A versatile design company known for its aesthetically impressive, safe, and educational play designs for a , PLAYTIME prides themselves on understanding how and why children play. Our design team, a big group of overgrown kids, spends their days thinking up new ways to have fun and get creative with the most innovative play concepts possible. Always pushing the envelope, we take our play seriously!
After a long and interesting history, playground experts know that now is the time to let the children play and choose their own physical activities. PLAYTIME believes that multi-skills playgrounds foster growth that enhances abilities in nearly every aspect of life. Here at PLAYTIME, we hope to ensure that future adult-children playground designers will continue our legacy of offering over the top fun geared toward developing the whole child.
Learn more here about PLAYTIME's innovative play concepts!
[1] https://www.indiatimes.com/health/healthyliving/parenting-importance-of-playgrounds-and-outdoor-activities-for-your-kids-health-236377.html#2
[2] https://www.aaastateofplay.com/history-of-playgrounds/
[3] https://slate.com/human-interest/2018/06/history-of-the-sandbox-the-origins-of-a-playground-for-kids-and-ideas.html
[4] https://savingplaces.org/stories/how-we-came-to-play-the-history-of-playgrounds#.W5LUPuhKiUkBut
[5] https://www.theatlantic.com/education/archive/2016/08/the-junk-playground-of-new-york-city/495371/
[6] https://www.espplay.co.uk/the-history-of-playgrounds/
Latest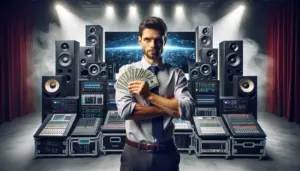 December 8, 2023
Mastering AV sales strategies in a global professional audio-visual (Pro AV) market, poised to reach $79.2 billion by 2028, requires much attention to detail. The surge in demand from corporate, government, and institutional sectors, driven by the need for enhanced productivity and efficient working environments, gives AV sales pros a lot of opportunity. In […]
Read More