Brick-and-Mortar's Best Shot to Beat e-commerce
A recurring theme at NRF 2019 was personalization. While the online experience has been personalized for some through the use of cookies and other tracking technology, in-store encounters have lacked these moments.
However, technology that uses Internet of Things (IoT) devices like sensors and cameras is changing all that. The in-store experience is getting a fresh new vibe, one that makes it seem like it was meant for each individual customer.
Samsung recently debuted a new system to help turn retail environments into personalized moments for customers. The system uses a Samsung display, a motion-sensor camera, and the "spot" feature of Samsung's digital signage software. Spot "sees" what customers pick up or touch. When it does, specific content can play on the digital display related to those items. At the same time, it collects analytics for the retailer.
The other motion-based sensor from Samsung is Trigger. A retailer can program a "trigger" or event that says if a customer does one thing, a corresponding action should occur. The trigger can be the touch of a product or someone coming into the area. Then specialized content plays upon that trigger.
With an integrated system like this, retailers can customize the in-store experience, which may encourage more purchases. Plus, valuable data is being collected that can help retailers make decisions about a number of things including merchandising setups.
The Checkout Free Experience
Retailers are always trying to reduce friction when it comes to checkout in a store. Self-checkout has been in stores for some time, but now there is technology that allows the customer to use their smartphone to checkout without ever getting in line. Amazon pioneered this with their first brick-and-mortar store.
Trigo Vision is another company bringing this technology to shoppers.
Trigo is a startup that focuses on enabling retailers to transform their environments. With Trigo, cameras track customers throughout a store. Trigo supplies these special cameras along with its software platform. There is no limit to how many items can be tracked or the number of customers, thus it is scalable for even the biggest of locations.
This solution gives shoppers the ability to browse and fill up their carts without having to deal with long checkout lines. It is highly configurable as well, giving retailers many options.
Visibility Equals Insights
Another promising technology comes from Zebra with its SmartLens. The SmartLens makes the entire store a smart store. Retailers can sense and record almost any type of movement in a store from merchandise to employees to shoppers. It collects data and transforms it into actionable insights.
This tool allows retailers to have inventory visibility to understand out-of-stocks and overstocks. This is just one feature but consider how that improves the experience of a customer. When a store or shelf is out-of-stock, sales are lost and customers become frustrated. This tech helps overcome this daily challenge.
Brick-and-mortar stores certainly are not dead, as many prophesized a few years ago. Instead, they are evolving and changing to meet the current needs of its customers. Technology is leading the charge of this transformation, allowing retailers to personalize the experience of each shopper, ensuring that they return.
For the latest news, videos, and podcasts in the Retail Industry, be sure to subscribe to our industry publication.
Follow us on social media for the latest updates in B2B!
Twitter – @RetailMKSL
Facebook – facebook.com/marketscale
LinkedIn – linkedin.com/company/marketscale
Latest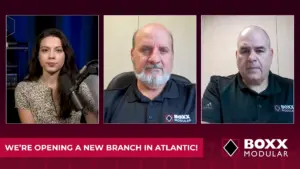 December 4, 2023
In an era where construction innovation is reshaping the industry, modular construction's growth continues to rise. In this episode of Built Modular, Boxx Modular's strategic expansion into Moncton, Atlantic Canada takes center stage. Host Gabrielle Bejarano welcomes Charles Landry and Ray Girouard to explore the implications of this venture. Bejarano, Landry, and Girouard discuss […]
Read More