Do NFTs Have A Business Case Outside Of Art Collection?
Major collectible companies, Funko and Topps, are making noise in the NFT market as they announced they're entering the market. Does it make good sense for businesses like this to enter the market, and what is some of the technology driving this rising market?
Voice of B2B, Daniel Litwin, talked on Marketscale TV with Gary Peter Nuttall, Emerging Technology Consultant & Founder, Distlytics, and Nick Emmons, CEO, Upshot, about the NFT world.
The trio dove into the technology behind NFTs, which is part of the Ethereum blockchain. NFTs, or non-fungible tokens, add unique information to individual tokens.
"NFTs have been explored since 2017," Emmons said. His company, Upshot, is a question & answer protocol built on Ethereum blockchain, leveraging peer prediction for more accurate answers to important questions.
To better understand how NFT technology will interface with existing crypto use cases and infrastructure, Emmons and Nuttal dug into the Etherum blockchain's recent structural changes that excited investors, such as Mark Cuban, even though the market has recently dipped. The changes have upset crypto miners, and leave question marks about how they'll shape NFTs. The changes will burn or destroy ether coins over their auction system to lighten the supply of coins.
"There are a lot of potential changes to the Etherum protocol," Nuttal said. "Ultimately, it will lead to a better platform." His company provides education, consultancy, and advisory services around blockchain and distributed ledger technology.
Follow us on social media for the latest updates in B2B!
Twitter – @MarketScale
Facebook – facebook.com/marketscale
LinkedIn – linkedin.com/company/marketscale
Latest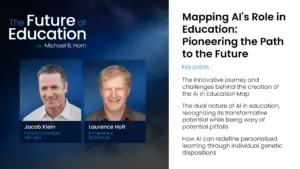 October 2, 2023
Mapping AI's role in education should be a critical step in bringing together innovative technology-based solutions with the expertise of human educators. With rapid advancements in artificial intelligence and an increased reliance on technology-driven educational solutions, the education landscape is on the brink of a significant transformation. AI promises highly personalized learning experiences, efficient administrative […]
Read More