Evaluating the Real Cost of Social Media Outages
Key Points:
You can't fall in love with any platform that you don't own.
Be willing to be flexible on the channels that you use, find trending apps and see how you can apply the app to your business
Still utilize email address, and newsletters because email won't have outages and policy changes like social media platforms
Commentary:
On Monday, the social media world was rocked with millions of users of the popular social media platforms, Facebook and Instagram, not being able to access and post on their accounts. Over the years, these platforms have become more than just a place to update your status or post pictures; many business entities rely on the platform to not only market their products but sell them as well. With Facebook's servers down for an entire business day, MarketScale asked Dustin York, Associate Professor of Communication at Maryville University, what sort of impact outages have on businesses that use social media to sell their goods.
Latest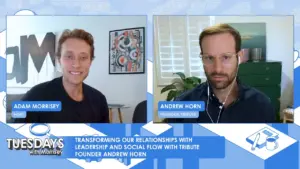 November 28, 2023
Can relationships be transformed through leadership and social flow? Navigating the intricate web of digital relationships can be a tricky proposition. Tuesdays with Morrisey's Adam Morrisey uncovers the transformative impact of emotional recognition in the workplace with Andrew Horn, the mastermind behind Tribute. This podcast edition unravels the story of a platform redefining how […]
Read More