Inside Black Friday: What Can Retailers Expect in 2018?
The unofficial start to the holiday shopping season, Black Friday, is two short weeks away (Nov. 23) and big-name retailers are already preparing for the consumer spending circus.
From small businesses to shopping malls, retailers are expecting 2018 to be a comeback year for sales. The holiday shopping season is one of the most telling times for the economy with some 30 to 40 percent of retail sales for the year happening between Black Friday and Christmas.
With the continued growth of e-commerce sites like Amazon and the adoption of Cyber Monday as an online alternative to in-person shopping, the number of people visiting stores during Black Friday has gradually declined over the years. In 2017, the number of in-store shoppers declined 4 percent from the previous year, while online sales rose 17 percent according to Adobe Systems Inc., setting a record of $7.9 billion in total sales.
Several factors are playing a role behind the optimistic predictions surrounding this high-spending shopping season. Unemployment is low, wages are increasing, and consumer confidence is at a near all-time high. That combination makes for what some experts are predicting to be a substantial increase in holiday spending this year. According to a survey from the National Retail Federation and Proper Insights & Analytics, American consumers will spend an average $1,007.24 during the holiday season this year; up 4.1 percent from 2017.
Now, retailers all over the country are setting the stage for a record-breaking year. Daniel Henderson, department manager for H&M inside the popular Galleria Mall in North Dallas, Texas, emphasized the importance of brand exposure in the months leading up to the holiday shopping season for attracting new customers and setting itself apart from other competing retailers.
"Every year we do collaborations with different designers, so every time we do a different collaboration, we get more people interested in our company," Henderson said.
The company came under fire at the beginning of the year after what many considered a racially suggestive advertisement. Shortly thereafter, it was involved in a lawsuit against a street artist that caused protests.
"Because of these [incidents] our sales dropped drastically, so we're trying to entice more people to come in," added Henderson.
In order to curb the effects of a turbulent year, the company is taking a different route when it comes to its Black Friday promotions. In the past, H&M would run Black Friday exclusive collections, along with traditional discounts, that would attract swarms of people. Now, the company is much more focused on the bottom line.
"This year, we're doing thirty percent off everything, on top of other separate promotions, which is why I think we're doing that instead of the collection," Henderson said. "It brings a lot more people in."
The Galleria location, along with the rest of the company, seems assured this year will bring higher than expected sales.
"This year, we set a goal for $80,000 but based on how we've been trending with our sales, we're planning on hitting $100,000. We're trending all the way up," Henderson said.
Part of this trend lies in the revamped marketing within the brick-and-mortar locations. New, redesigned promotions within the store offer a fresh redesign with visual appeals like pictures of the clothing on a rack that make it easier for consumers to shop.
At the end of the day, the secret to a successful Black Friday involves equal parts customer and employee satisfaction, according to Henderson.
"Customer service is key… but sticking to the plan and making sure the employees are having fun is also important. You would think it's a high-stress environment, but it's really not," Henderson noted.
The week of Black Friday, this store treats its employees to theme days like "Sundae Sunday" and "Waffle Wednesday" which makes sure this weekend of savings goes smoothly for the customers and employees alike.
Latest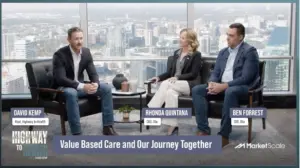 December 7, 2023
As of recent times, the healthcare industry has been progressively shifting towards value-based care, a model that emphasizes patient outcomes over the quantity of services delivered. This transition represents a significant shift that promises to enhance patient experiences and outcomes while controlling healthcare costs. With a growing emphasis on this approach, especially over the […]
Read More