Multi-format Retail Offers Sellers the Opportunity to Expand Business with a Single Brand
Multi-format retailing has slowly entered the retail landscape over the past 20 years. The term is specific to the various formats a retailer takes with its brick-and-mortar stores versus multi-channel which includes online channels, catalogs, etc. Carol Spieckerman, President at Spieckerman Retail, spoke about the current multi-format mojo being flexed by significant retailers and why the trend is growing.
"The fact is that multi-format retail has quietly become the rule rather than the exception. Most retailers that have made it this far are now multi-format operators," said Spieckerman while noting that the "refinement and evolution of existing formats is very much a part of the multi-format story."
Major Chains Changing the Retail Landscape
Dollar General – an efficient and small format general store branching out to Popshelf stores to attract middle-class suburban shoppers, DGX stores to break into the urban market, and a plan to test its concepts internationally by opening stores in Mexico.
Walmart –  big-box retail exploring new opportunities for convenience stores and inventory-less pick-up locations. The interesting thing about Walmart is the company's willingness to experiment with ideas in various locations such as the now nonexistent  "Walmart Pickup with Fuel" concept.
Macy's – as of August 2022, the well-known department store is testing six Market by Macy's concept stores in Texas and Georgia. These are smaller stores designed to be in shopping centers instead of large malls with new items arriving several times a week and regular events, including trunk shows, to attract more frequent visits.
And these are only a few of the stores that are experimenting with new formats. Others include Kohl's plan to open 100 mini-stores by 2026; Petco's expansion into products and services for farm animals; 7-Eleven's continued rollout of its successful Evolution concept that includes dining, cocktails, and touchless payments; and HEB (a Texas grocery store chain) launching a new format that incorporates home goods.
So why are retailers flexing their multi-format mojo?
There are multiple reasons and strategies depending on what a retailer is trying to accomplish and what consumers they are trying to reach. "If you're in the B2B space though, and selling to retailers or brands, it really does pay to parse it out and to learn those reasons why because it will be so essential to your strategy and it's very important to their future growth," Spieckerman said. She goes on to note the three major reasons retailers decide to engage in multi-format brick-and-mortar locations as well as the impact on businesses selling to these stores.
Category Diversification
When retailers experiment with new formats, they are able to bring new category offerings to shoppers A couple of examples include Dollar General and Target adding food to store offerings. Food is a popular addition because it encourages more frequent trips to the store and increases sales, including sales of non-food items. Grocery stores do the same when they add home goods, clothing, and popular non-food seasonal items to the available inventory.
Location Expansion
Without new categories, retailers are limited to specific locations and shopper demographics. For example, Petco's farm offerings give the company access to rural areas that can't support large stores. Dollar General's DGX attracts urban shoppers with popular grab-and-go items, and its Popshelf concept is designed to attract suburban consumers who might never shop in a dollar store.
Category Diversification + Location Expansion = New Shopper Segments
Ultimately, it all comes down to acquiring new shopper segments which lead to increased profitability and support retailers staying in business longer.
Brick-and-Mortar Stores Still at the Heart of Retailer's Strategies
"The multi-format movement is helping to keep brick-and-mortar relevant and on every retailer's radar. This spells an opportunity for anyone doing business with multi-format retailers…. Because through their format expansion, you can expand right along with them. So, one retailer can now present all kinds of opportunities without you having to look any further," explained Spieckerman, concluding with the following statement.
"The bottom line is there's never been a better opportunity to position to multi-format opportunities and to flex your multi-format mojo."
Latest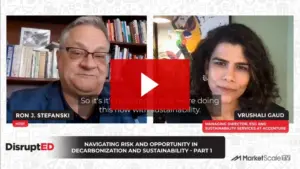 September 26, 2023
The global conversation has shifted dramatically towards decarbonization and sustainability in recent years. With the world experiencing unprecedented levels of disruption, from 5G technology to the challenges of a pandemic, the urgency to address climate change and its implications has never been more palpable. Although most business leaders see the vision of Sustainable Development […]
Read More