Why the True Winners of This Holiday Season Are the Consumers
Online sales were up in 2022, and this year the United States broke sales records for both Black Friday and Cyber Monday. Consumers are continuing to spend and buy despite the coming recession that many experts are warning of.
Lisa Miller believes that the true winners of this holiday season are the consumers who are taking advantage of the increased inventory and opportunities this year:
"So let's take a quick look at how the Cyber Monday and Black Friday results panned out. The first thing is there were definitely records set both in-store and online this holiday season. So far from an in-store perspective, the traffic was actually up over 17%. So the unleashing of that pent-up holiday demand definitely came through.
Online sales were up to 9 billion, and that was up actually two points versus the prior year. So there's definitely joy in the air this holiday season as consumers are trying to get back to some sort of normalcy. So when you say who's the winner this holiday season, who are the winners and losers? The consumer is the winner this year, and the reason is that the opportunity to get back out shopping is such a fun holiday tradition for many consumers.
The inventory levels are better. The shipping concerns from last year are definitely seeming to be resolved. So at the end of the day, I think the consumer is the winner and we could all use a little bit of joy in our lives this year."
Latest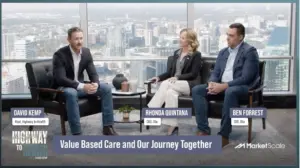 December 7, 2023
As of recent times, the healthcare industry has been progressively shifting towards value-based care, a model that emphasizes patient outcomes over the quantity of services delivered. This transition represents a significant shift that promises to enhance patient experiences and outcomes while controlling healthcare costs. With a growing emphasis on this approach, especially over the […]
Read More