Retail Keeps the Digital-Physical Line Blurred with Virtual Appointments and Live Streaming on Retail
The integration of digital and physical channels has intensified in the last two years. It's another consequence of the pandemic, but it's not something that just appeared. Many shoppers were already strong adopters of e-commerce. While companies had to pivot sharply to being digital-centric in 2020, 2021 saw in-store recovery, which continues in 2022.
Overall, retail sales grew by 14% in 2021, and the forecast for 2022 is 6-8%, according to the NRF (National Retail Federation). A lot of that growth is the emergence of m-commerce (shopping specifically on mobile and tablet devices, often occurring in a retail app), projected to represent 42.9% of e-commerce by 2024. That's an important growth vertical in the conversation of the two emerging trends—virtual appointments and live stream shopping.
With rising competition and a grab for consumer dollars, retailers are rethinking how to converge digital and physical channels in meaningful ways. That desire to keep blurring the lines between digital and physical makes both virtual appointments and live streaming appealing. Both these, according to expert Melissa Gonzalez, CEO and Founder of The Lion'esque Group and Principal and Shareholder at MG2, are "an opportunity for your brand for more personalized interaction."
Gonzalez urged retailers to "always think about the purpose and intention first for any kind of technology." After all, technology for technology's sake isn't going to engage customers or make them more loyal. She noted to ask, "What is it doing for the customer?"
Virtual Appointments Drive Deeper Connections with Convenience
Virtual appointments began popping up in 2020 to offer one-on-one shopping experiences that were just as engaging as being there in person. Some brands started offering these when physical stores were closed or had limited capacity. Jeweler Blue Nile launched this in 2020 to make the customer journey more personalized. Urban Outfitters, a trendy clothing brand, also began offering these in 2020 through an experiential platform. The initiative increased customer transactions by 25%.
In this setting, customers get the attention they crave in making buying decisions. Even though in-store shopping is mostly back to normal, consumers still seek digital interactions, likely for convenience. Gonzalez said of the trend, "With virtual appointments, it's a one-on-one human connection and dive deeper with customers and understand what they're looking for and solve problems in a personalized way."
The key is personalization. Data supports that personalization equals more spending and loyalty. In fact, 80% of consumers are more likely to buy from companies that personalize their experiences. These intimate interactions are the personification of personalized marketing. Since they happen virtually, retailers can leverage technology to create these without the need for costs and considerations if these were in-store appointments. It allows for more flexibility for both the retailer and the customer.
Virtual appointments aren't the only blended trend that is changing shopping. Live streaming is, as well.
Live Streaming: A Growing Market That Drives Engagement and Community
Foresight Research projects that live streaming will be an $11 billion market in the U.S. in 2020. That's not as impressive as China's market, which eMarketer predicts will be worth $480 billion. The country has been live stream central since before the pandemic, but $11 billion is no small number.
So, why the attraction? Many in the industry call it entertainment. It brings a social aspect to shopping that maybe isn't possible in the modern world. Gonzalez explained, "With live streaming, there's so much opportunity of capturing intent and excitement in the moment, making shopping quick and community-based with family and friends."
The success of live stream shopping during the pandemic doesn't seem to be waning. Amazon is investing in Amazon Live. Pinterest is partnering with Twitter for shopping projects. It's kind of like the 21st-century version of home shopping networks. While it's not a fit for every product, retailers in fashion, cosmetics, consumer electronics, and home décor are all tuning into the opportunity.
On the brand level, well-known retailers are finding success. Nordstrom has a dedicated live shopping channel. Kiehl's, a luxury skin and hair care brand, held virtual "open house" events on Instagram with their beauty advisors.
Bloomingdale's is another adopter of live streaming, hosting over 50 live shopping events since 2020. For Bloomingdale's, it was more than digital connections. A recent Livestream collaboration with Jimmy Choo offered cocktails and macaroons to those that registered early. Post-event, the first 50 buyers of merchandise received a personalized fashion sketch!
It's not just for high fashion. Petco has hosted live streams, as has Walmart. There are endless opportunities for brands to engage and make shopping fun and shareable even if everyone's relaxing at home.
Latest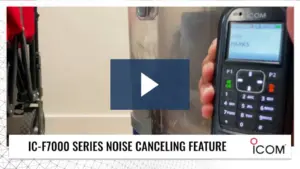 September 27, 2023
In this brief product demonstration video, ICom's IC-F7000 Series receives a mic test of its noise-canceling feature. Through the two demonstrations it is clear the IC-F7000 removes loud ambient noise for clear two-way communication.
Read More