The Metaverse is a Brand's "Betterverse"
Justin Hochberg, CEO and Co-Founder of Virtual Brand Group, sums up his company's mission in one easy sentence, "We put you in the Metaverse." Hochberg joined Christine Russo to explain how Virtual Brand Group harnesses the power of web 3.0 for I.P. by creating consumer experiences to socialize, shop, make friends, and develop products in the virtual and physical world simultaneously.
Hochberg believes that the term Metaverse should not be synonymous with confusing. If Hochberg gets his way, people could soon think of the Metaverse as synonymous with a different word: opportunity.
"If you are a brand of any nature, from entertainment to sports, you now thought you had your business organized," Hochberg said. "You were in E-comm, and you were in retail, and you did events at South by Southwest, and maybe you had a catalog, and you did social, and maybe if you were really advanced, you did live streaming. Today you wake up, and you're like, wow, we thought we were an omnipresent brand, and all of a sudden, we are not because we are missing out on hundreds and hundreds of millions of consumers that are spending hundreds of hours a month on platforms like Roblox, Sandblox. Decentraland, etc."
Virtual Brand Group brings companies into this brand-new world of the Metaverse. "We operate their businesses in the Metaverse," Hochberg said. "We take all the operational risk by becoming a licensee of them and then building out their presence in first Roblox, or Sandbox. Then we operate a proprietary set of technology that allows us to create the assets once, and then spin them into any way we possibly can."
One question remains whether the Metaverse will become an open or walled platform. Now, it appears as if there is room for both options. "The Metaverse is a series of technologies that people are using to build various experiences with different economic models," Hochberg said. But while the opportunity door is open, brands should explore those options.
Latest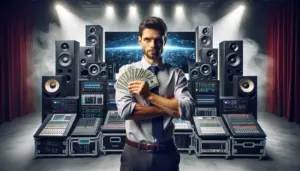 December 8, 2023
Mastering AV sales strategies in a global professional audio-visual (Pro AV) market, poised to reach $79.2 billion by 2028, requires much attention to detail. The surge in demand from corporate, government, and institutional sectors, driven by the need for enhanced productivity and efficient working environments, gives AV sales pros a lot of opportunity. In […]
Read More