Retail Guru Tony D'Onofrio on Retail Tech, Empowered Consumers
MarketScale recently attended NRF 2020, the retail industry's biggest annual show, to get a feel for where the industry is headed and sit down with some of retail's biggest names.
Retail influencer and consultant Tony D'Onofrio joined MarketScale's Geoff Short for a discussion on some overarching themes in the retail industry as a new decade dawns.
D'Onofrio identified artificial intelligence (AI), data analytics and retailer immersion in technology as key items he hoped were high points at NRF, providing a look into the mind of one of the industry's biggest names.
Regarding technology, D'Onofrio said consumer smartphone adoption has drastically altered the retail landscape, adding that consumers are often as educated or more educated regarding a retailer's offerings than employees, themselves.
This "empowered consumer," D'Onofrio said, expects retailers to respond to digital conversations and needs at a satisfactory level.
Short and D'Onofrio also discussed the difference between concepts, ideas and actionable and implementable tech, what makes tech worth it for retailers, consumer-centric technology, challenges facing retail entering the next decade, and more.
To keep up with everything going on in the retail industry, stay tuned to MarketScale's retail publication here.
Latest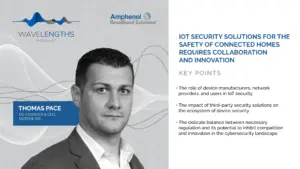 November 28, 2023
Since the introduction of smart devices, the world has increasingly become dominated by interconnected devices but IoT securitydemands are also growing. The "connected home" has shifted from what was once a futuristic concept to reality. With the global smart home market projected to reach $135.3 billion by 2025, the conversation around the security of these […]
Read More