Walmart & Target Release 2nd Quarter Earnings Reports
Walmart & Target Release 2nd Quarter Earnings Reports – Data Provides Insight into the Future of Retail
The state of the economy is a topic of daily conversation in the latter half of 2022. Is the U.S. in a recession? Is the U.S. heading towards a recession? Is the housing market finally going to burst and return to a state that is more normal? What about the rental market? And for retailers, the most pressing question is: how will rising interest rates and inflation affect consumer spending?
The much-anticipated release of Target and Walmart's second-quarter earnings gives retailers a great deal of insight into consumer spending habits while also shedding light on what is and is not working successfully in the retail market. Carol Spieckerman, President at Spieckerman Retail, and podcast host talks about the report data and what it means.
"Last week we got an important retail barometer reading that retail watchers eagerly anticipate. I'm talking about the one-two punch of the 2nd quarter earnings reports from Walmart and Target. As usual, they came in one day apart and Walmart led the charge. Note this isn't just about two mega-retailers duking it out for dominance. It's really a bellwether for the entire retail industry," stated Spieckerman.
The Numbers Speak for Themselves, or Do They?
It may seem natural to think that the numbers reported are telling the whole story, but the reality is that they only give a glimpse into the insights retailers can gain from these reports. However, the numbers are essential so starting with a brief overview will help readers understand how the companies stack up to one another and what knowledge can be gleaned from the different experiences of these mega-stores. Spieckerman summarized the financials quite nicely:
"For Target, their profitability was down 90% year-over-year, but they also managed to seek out a 2.6% increase in sales which was just enough to keep their 21-quarter growth streak going. Customer traffic was up 2.7% which may not seem like a lot but it equated to 90 million new visits to Target land.
For Walmart, their comp sales were up 7.2% year-over-year. eCommerce leaped 12%. And Sam's club comp sales, really you could say they were the jewel and the crown because they had a 13.9% increase. Walmart's international business racked up a 5.7% gain and overall revenue was up 8.4%."
These numbers indicate that both retailers are doing fairly well despite consumer concerns over a recession. However, what exactly are consumers buying, what pain points did the retailers experience, and what does this mean for the upcoming holiday season?
Inflation Influences Consumer Buying Behavior
Both retailers suffered from excess inventory as consumers spent less on discretionary items such as clothing and furniture leaving an excess of inventory lurking in the warehouse and taking up precious shelf real estate. Target willingly took a short-term loss to rid itself of unwanted inventory with steep markdowns.
In doing so, the company was able to commit resources to focus on categories that are relevant to today's customers. Categories such as groceries, back-to-school supplies, household essentials, and seasonal items.
"The end game was to make sure this wasn't going to drag out and wasn't going to drag down performance for Walmart or Target. But here's the thing, excess inventory also compromises newness," noted Spieckerman. And newness is a promise that Target customers take seriously – new brands and new products are expected to appear regularly.
Walmart's excess inventory also caused problems. Chief Financial Officer John David Rainey spoke with CNBC about how the company addressed the 25.6% increase in inventory levels from the same time last year.
"Rainey told CNBC that 40% of the $11 billion of higher inventory reflects increased costs of goods from inflation. About $1.5 billion is the amount that Walmart would like to "wave a magic wand" to make disappear, he said." He further explained that the company canceled billions of dollars in inventory orders to realign category offerings with what consumers were actually buying.
Discovering Differences and What It Means for the Future
Spieckerman noted the commonality of inflation and supply chain challenges, and they are definitively the two issues that most people are talking about. However, she went on to reflect upon and discuss three less discussed topics that are not only intriguing but are critical to the future of these two megastores as well as the retail industry as a whole. Three things, in particular, stood out from the reports: mix matters, diversification, and newness.
"I actually really love the term that Walmart coined and used several times in its report when they talked about "mix shift." In fact, they cited unfavorable mix shift as the culprit for their 132 basis-point margin dive," said Spieckerman. On the other hand, Target did not note this factor as significant. Rather the company discussed the success of its frequency categories.
"Of course, grocery is one of those frequency categories and it's a category that Target's been very focused on because it's what drives the traffic that can help boost sales of those discretionary categories like apparel and home that Target's well-known for," Spieckerman explained.
For Target, the blame for decreased performance was placed firmly on having to mark down inventory that was on fire in 2021 but failed to continue the trend into 2022. Leading to a new understanding that retailers can no longer rely on past performance to predict future results. This new knowledge feeds directly into Spieckerman's second, lesser-discussed insight – the importance of diversification.
A great deal of Walmart's success during the 2nd quarter came from its diversified portfolio that includes Sam's club, international locations, eCommerce stores, and grocery stores to name a few (Money Inc.). Target's diversification is nowhere near Walmart's scale but they do own Shipt and Roundel. Both companies' ad platforms are very successful having partnerships with Marvel and Paramount Essentials.
Both chains illustrate the importance of diversification in retail both in the stores' category mix as well as through other sales channels and product offerings supporting one of Spieckerman's favorite sayings – diversify or die. Finally, the importance of newness cannot be understated. Excess inventory leaves stale items on shelves which is not attractive to repeat customers who are more prone to buying new items.
All in all the takeaways from these reports indicate that retailers will continue to adapt and evolve to meet consumer demand. And, despite inflation and a potential recession ahead, consumers will continue to buy. The key – figure out what they need and keep inventory levels in line with demand to avoid unnecessary losses.
Latest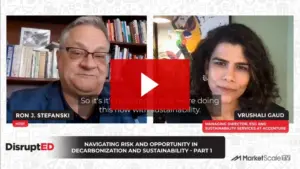 September 26, 2023
The global conversation has shifted dramatically towards decarbonization and sustainability in recent years. With the world experiencing unprecedented levels of disruption, from 5G technology to the challenges of a pandemic, the urgency to address climate change and its implications has never been more palpable. Although most business leaders see the vision of Sustainable Development […]
Read More