As Spaces Evolves into a "Normal Market", How Will This Impact the Competition?
On the Space to Grow podcast, Astroscale's Chris Blackerby and Charity Weeden bring their compelling experience and expertise to map out the technology, international policy, and scalability that will define the next generation of space exploration.
In this episode, Kevin O'Connell discussed his career in government that led to his present business of informing and defining space commerce as a consultant for companies throughout the globe. As founder and CEO of Space Economy Rising, LLC, O'Connell speaks to the past and future of space commerce. With decades of experience working within government institutions, including the White House as well as speaking before US Congress committees on a variety of issues, O'Connell is uniquely positioned to provide insight into an industry that is both elusive and relevant.
When asked about his transition to the private sector, O'Connell spoke to his decision as follows:
"We've had a lot of folks talk to us over the last few years to say hey Kevin you just have to slow this all down. You have to slow all of this work down, especially in lower earth orbit. And, our view was that we looked very hard for data driven approaches to regulation we were going to regulate. What would be the analytic basis upon which we would do it.
We worked with the FCC when they issued their orbital debris mitigation guidelines to say okay what pieces of this rule are supported by what kinds of evidence. And, in a lot of cases there was a lot of wishful thinking but there wasn't a lot of data rigorously collected to support that. And I would say that regulation that is uninformed and just based on wishful thinking can really do tremendous damage to an industry. So, you have to think about it that way. I think you do."
This intriguing podcast goes on to explore O'Connell's transition out of government and to what he is doing now in the private sector as well as what lessons he is bringing forward into his present business.
Of the many hats O'Connell wears, the most significant of his present contributions is in the field of space economy. This includes advising companies on
Space Industry
Technology
Space finance community
Basics that must be done as an early-stage company in this field
Competitors
Orbital debris mitigation strategies
Cyber security strategies
Investment Risk Management
And much more.
Tune in to learn from this renowned expert as the discussion covers everything from how he got to where he is to what he envisions for the future of space economy.
More in This Series
This Season's Mission Will Be Making Space Relatable
Latest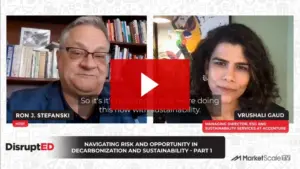 September 26, 2023
The global conversation has shifted dramatically towards decarbonization and sustainability in recent years. With the world experiencing unprecedented levels of disruption, from 5G technology to the challenges of a pandemic, the urgency to address climate change and its implications has never been more palpable. Although most business leaders see the vision of Sustainable Development […]
Read More