Climate Change Study Produces Alarming Information, But How Accurate Is It?
Concrete data on climate, and the actions that impact it can be hard to determine. Climate Trace, an organization that aims to measure true carbon levels across the globe recently published a study that claimed greenhouse gas emissions from oil and gas facilities is three times higher than those producers state.
Steve Hendrickson, President of Ralph E. Davis Associates believes there is more than meets the eye in this case. Watch his take below, where he digs into the merits of the methodology used in this study.
Steve's Thoughts:
"On November 9th, climate Trace, a global nonprofit that advocates for faster action on climate change, released a report that described much higher levels of CO2 and other greenhouse gas emissions around various parts of the world than had been previously understood or at least expected. I took a look at their report and their data specifically.
The oil and gas business in the United States had a couple of words of caution. First of all, their methodology is documented on their website, but it is very model-driven and those models require a lot of assumptions, they do not represent. The direct measurement of these hydrocarbons or co2 emissions.
Secondly, the level of granularity in their report is very low. That is, they don't look specifically at individual facilities or wells. Maybe in a few instances, they do for certain large facilities, but for instance, in something like the Marcellus, which contains thousands and thousands of wells grouped as a single field it's hard to get actionable data when you look at it in that magnitude.
If you're gonna rely on the data, my advice, take a good look at their methodology and I would use it with caution."
Latest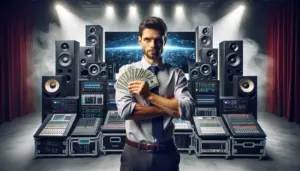 December 8, 2023
Mastering AV sales strategies in a global professional audio-visual (Pro AV) market, poised to reach $79.2 billion by 2028, requires much attention to detail. The surge in demand from corporate, government, and institutional sectors, driven by the need for enhanced productivity and efficient working environments, gives AV sales pros a lot of opportunity. In […]
Read More