Composite Materials Keep Boats Riding High
Why Use Composites?
Materials for the marine industry need to be versatile, durable, strong, and relatively light. This makes composite materials—fibers reinforced with resin—an ideal choice for marine vessel and part construction. Among the many advantages to using this type of material, composites are corrosion-resistant, customizable, and require minimal maintenance while being easy to repair. They also combine enhanced stiffness with the ability to easily engineer structures with complex shapes or geometry. From gratings, ducts, and shafts to piping and hull shells, the high strength-to-weight ratio and robust structure of composite materials has made them incremental to the marine industry for decades.
Comparing Composites
One of the earliest composites used in the marine industry was ferrocement—a matrix of hydraulic cement mortar and layers of continuous steel mesh reinforcements patented in France in 1855. Mostly used in low-cost barges today, ferrocement is inexpensive but susceptible to corrosion. However, for nearly a century now fiber-reinforced composites have been preferred by naval architects and boat builders alike in the manufacturing of marine vessels.
With 95% of the 7 million pleasure boats in existence today constructed with this material, glass-reinforced plastics has been the composite of choice for boat construction since its introduction in the 1950s. In the 1960s, the hand lay-up method was used for mat and woven roving fiberglass, but in the 70s, sandwich construction had taken its place. At the same time, alternative resins like vinyl ester and epoxy were being used. The 1980s saw the introduction of advanced fabrication techniques and, thus, aramid, Kevlar, and carbon fibers were developed. Vacuum-assisted methods and infusion for the production of composites were both introduced in 1990s.
For "hot molded" and "cold molded" vessels, thin veneers of wood/adhesive composites are often laid over the frames to reduce use of aluminum and steel. Aramid fiber is commonly used to strengthen yacht structures and improve shock absorption. Finally, high-performance, lightweight carbon fiber provides a high degree of stability for sailboats and superyacht furniture.
Magnum Venus Products: Build Boats Better
The true advantage of composites is that the end product is more than the sum of its parts, making them more durable, lightweight, and versatile—ideal for shipbuilding and construction. As a premier manufacturer of composite application equipment, Magnum Venus Products (MVP) provides the marine industry the ability for simpler, more efficient boat building.
MVP takes great pride in their foundation as a family-owned business and still adheres to the family values that have made them the industry leader they are today. Affording great respect to their employees, MVP not only values hard work and integrity, but their company culture thrives on creativity, diversity, and innovative thinking.
To learn more about MVP's gelcoat products used in boats, visit http://www.mvpind.com/productcategory/gelcoat-equipment/ today!
Read more at mvpind.com
Latest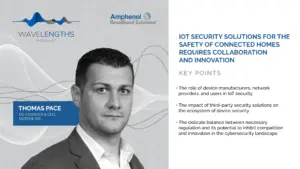 November 28, 2023
Since the introduction of smart devices, the world has increasingly become dominated by interconnected devices but IoT securitydemands are also growing. The "connected home" has shifted from what was once a futuristic concept to reality. With the global smart home market projected to reach $135.3 billion by 2025, the conversation around the security of these […]
Read More