CUSTOM PHOSPHATE FLOTATION SOLUTIONS FOR BRAZILIAN MINING OPERATIONS
For more than 50 years, ArrMaz has been a pioneer in innovating leading-edge chemical solutions used to optimize mining and mineral processing operations across the globe. As a trusted and experienced partner, mining companies worldwide turn to us to help optimize process performance, and maximize mineral grade and recovery using our advanced product chemistry and application expertise. Our experience has taught us that every mining operation is unique which is why we offer custom solutions developed specifically for each customer's ore. To meet the needs of Brazil's sophisticated phosphate processing operations, ArrMaz has engineered superior solutions to maximize Brazil phosphate grade and recovery for selective phosphate flotation while depressing iron and other contaminates. ArrMaz brings unique ability and chemistry to adapt formulary as the ore changes or as impurities increase.
Brazil Phosphate Mines Will Soon Face Lower Quality Deposits
As Brazilian miners extract phosphate deposits from higher quality mines and max out these resources, they will have to turn to processing lower quality ores to meet phosphate demand. Unfortunately, these deposits are likely to contain more undesirable levels of impurities such as barite, dolomite and/or silica than current mineral flotation processes can handle. Removing barite, dolomite and silica impurities is challenging but necessary to achieve the phosphate grade needed to convert the phosphate ore into phosphate quality fertilizer, while still being able to selectively float phosphate and substantially depress iron.
While Brazil's current, technologically advanced reverse flotation processes already float barite away from phosphate, the demands of future, lower grade deposits will require more sophisticated collectors that can manage widely varying ore and processing conditions. Brazilian phosphate rock producers will be challenged to make grade—as too much silica and dolomite will make it difficult to convert the phosphate rock into phosphate quality fertilizer. But ArrMaz is here to help them meet this challenge. We work with Brazilian miners/mineral processors to customize a collector system and flowsheet design specifically for their ore and process, with the goal of simplifying the process by combining flotation steps so that multiple impurities can be floated away in one step, enabling maximization of phosphate grade and recovery. The lower the rock impurities, the better the fertilizer processing and value.
Investment in Phosphate Flotation Solutions Research & Development Pays Off
ArrMaz is already the leader in dolomite and silica flotation in other major phosphate producing regions around the world. As the leading expert in this fundamental technology, ArrMaz has 20 years (and counting) of research and development invested into engineering next-generation, proprietary formulations, and surfactants that are ideally suited to solve Brazil's unique phosphate flotation challenges. Brazil's agriculture industry is indispensable to the global food market. ArrMaz remains committed to investing in lab and plant resources in the area and developing partnerships with Brazilian phosphate mining operations that are vital in the production of fertilizers. Our proven innovations and advanced collector technology deliver better grade, higher value, quality rock, as well as improved recovery. The result is longer mine life, lower cost per ton, and a consistently reliable supply at a stable price.
Latest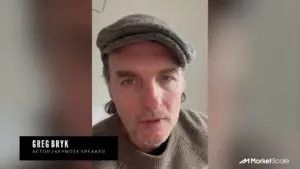 November 30, 2023
In a crowded marketplace, authenticity could be the strongest differentiator in standing out from the competition. Actor and Keynote Speaker Greg Bryk shares his insights on making a mark, on-screen and in the B2B arena. Bryk emphasizes the power of authenticity over pandering to the audience. He explains, "The way to stick out from […]
Read More