Japan's Radioactive Water Release Won't Impact Neighboring Countries, Despite China's Opposition and Ban on Japanese Seafood
With news of China banning seafood from Japan, the debate around nuclear energy has always been fraught with concerns about safety, especially following high-profile incidents like Fukushima. However, it's worth noting that nuclear plants across the world, including officials in countries vocally concerned about Japan's handling of tritiated water, routinely have their own radioactive waste responsibilities. 
It's easy to get caught in the emotion and politics of the situation, especially when it involves terms like "radioactive release," but understanding the science and safety protocols is crucial. Independent organizations like the International Atomic Energy Agency (IAEA) provide not just oversight but also expertise in making sure that any release is carried out to stringent safety standards. For instance, the tritium levels being released from Fukushima meet standards set by the World Health Organization and the Japanese government. The release of tritiated water is a monitored, understood, and internationally sanctioned activity that comes as a part of the territory with nuclear energy. 
To further explain the safety of this effort and how public perception impacts nuclear outlook is Ken Petersen, President of the American Nuclear Society. He brings years of experience and knowledge on the subject. Previously he was the vice president for nuclear fuels at Exelon Generation Company (EGC) for more than 12 years. He even worked on a contract with the U.S. Department of Energy, and has a Bachelor's and Master's in nuclear engineering from the University of Wisconsin.
Petersen mentioned that Japan's release of tritiated water — water that's been heavily treated,  undergoes safety protocols set by global standards. He further added that China's opposition bears hypocrisy given that they, too, have also released radioactive water under those same guidelines.
Petersen's Thoughts on Radioactive Water Release
"Sure. So, I mean, the site is no longer has room for expanded storage. So, something has to happen with the tritiated water. It's been, you know, filtered twice and, you know, what is remaining is a little bit of tritium that's going to be blended down even further and released. So, it's going to be monitored and released. The IAEA has reviewed it. They will have somebody there monitoring it to assure that everything is done appropriately. So, this is no different than any other plant. 
"So, when you have a radioactive release, it is monitored and it meets the criteria. And it's, you know, one-seventh of the World Health Organization levels. And it's a fortieth of what the Japanese government limits are. So, it's a very understood and very small amount. Well, there's a history from their neighbors where, you know, some of their neighbors don't get along very well. But the neighbors who are speaking loudly also have reactors where they'll do the exact same thing. You know, they will have tritium releases. They will be monitored and be well within safety levels. Yeah, this shouldn't impact that at all. So, this is a very unfortunate situation, you know, that the Fukushima plants had the earthquake and following tsunami. And it resulted with this large storage of tritiated water and it is just a monitored release. It should have no impact on the outlook for new nuclear."
Latest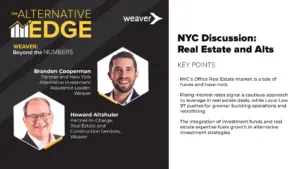 December 5, 2023
Explore the evolving landscape of New York City's real estate and alternative investments with Brandon Cooperman and Howard Altshuler in this insightful episode of Weaver: The Alternative Edge. Dive into the current trends, market forecasts, and strategic growth in the real estate sector. Key Points: NYC's Office Real Estate market is a tale of haves […]
Read More