Do Standing Desks Really Help You Lose Weight?
Short answer: Yes. But it might take a while.
According to a new research review just published by the European Journal of Preventative Cardiology, using a standing desk for six hours per day burns 54 more calories than sitting at a desk. While this may sound like a pretty underwhelming number, over the course of four years, those calories add up to a potential reduction in weight of 22 pounds—which has got to be good for going down at least one or two pants sizes.
Researchers led by Dr. Farzane Saeidifard from the Division of Preventive Cardiology, in the Department of Cardiovascular Medicine at the Mayo Clinic looked through almost 700 scientific studies that sought to measure the health benefits of standing desks, and included 46 of them—the most rigorous of the collection—their review. These studies only measured sitting versus standing and looked at 1,184 standing desk users. Saeidifard and his team concluded that the difference in energy expenditure between standing desk users and sitting desk users—with no increase in caloric intake—would reduce body fat mass by 2.5 kg per year.
And the good news doesn't stop with weight loss. Standing desks can help desk-bound folks move around more in general throughout the day, burning additional calories to compound the effect of the desk set-up alone. Standing desks, say experts, can also help prevent back pain associated with prolonged periods of sitting.
Ultimately, the researchers found, that "the substitution of sitting with standing could be a potential solution for a sedentary lifestyle to prevent weight gain in the long term," and recommended that "future studies should aim to assess the effectiveness and feasibility of this strategy."
The study also pointed out that population-based studies have reported the daily sitting time ranging from 3.2 to 6.8 hours (20–43% of adults' waking hours) across 32 European countries. In the U.S., it's more than 7 hours per day. So, implementing a standing desk into our workday is probably a good idea. Sitting all day isn't just making us a little chubby. Sedentary behavior, expressed mainly as extended sitting time, has been blamed as one of the contributors to the high prevalence of cardiovascular disease and diabetes.
In other words? It's time to elevate those desks, America!
Latest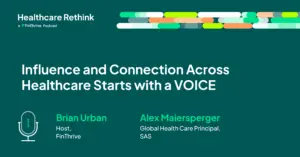 September 29, 2023
In the latest episode of the Healthcare Rethink podcast, presented by FinThrive, host Brian Urban sits down with Alex Maiersperger, the Global Principal Healthcare at SAS. Their conversation charts the role voice plays in influencing and connecting the healthcare industry. Maiersperger, who co-founded the Advancement League, shares his journey from being a healthcare optimist to […]
Read More