Trends in Pet and Animal Wellbeing
Nutrition, supplements, and wellness are the foundation for a healthy human life. And that trend is now leaking into our pets and animal health. According to a recent Pet Age report, "a pet's health and wellness is a three-dimensional sphere that includes several interdependent parts including a high-quality diet, regular exercise, routine veterinary care, a loving home, and supplements to support health."
Caitlin Donohue, Director of Business Development Microbiome Solutions, Pet & Animal Wellbeing, ADM Nutrition, pointed out, "it's a lot cheaper to prevent problems than to treat them." She and her colleague, Bill Bae, Business Development Director, Market Ready Solutions – NA&LATAM, Pet and Animal Wellbeing, ADM Nutrition, sat down with host Michelle Dawn Mooney to discuss supplement care for pets. Bae continued, "having those supplements… is really beneficial for your pets in general."
Consumers should expect to see more supplements for their pets' microbiome. The term microbiome describes a community of different organisms. The gut microbiome and oral microbiome are the most studied. Each community is a competition between desirable bacteria and undesirable bacteria. A healthy microbiome is usually reflective of overall good health.
Supporting supplemental ingredients include pre-, pro-, and post-biotics. "The prebiotic is the food that the probiotics need," explained Bae. A newer term, postbioitics, are organisms that are no longer living. "Each provides a health benefit. Post is derived from the probiotic, and ultimately promoting a more diverse, beneficial microbiome for the host, be it a dog, cat, or human," explained Donohue.
Enzyme-focused supplements help facilitate proper digestion. "Enzymes are another way to support a breakdown of other various diets for cats and dogs," said Donohue. These can help balance pet diets and support overall well-being. "Systemic enzymes support bodily functions within the tissues, organs, blood flow, things like that," said Donohue.
Bae warns that consumers should do their research when buying pet supplements. Carefully look at what is going into your pet's gut flora. Bae says there are "macro terms that cover a lot of things." Delivering supplements is possible in various forms, from single-serve packs, chews, broths, pastes, or gels.
Latest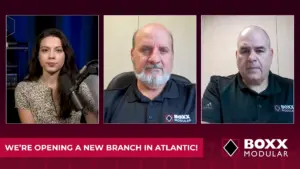 December 4, 2023
In an era where construction innovation is reshaping the industry, modular construction's growth continues to rise. In this episode of Built Modular, Boxx Modular's strategic expansion into Moncton, Atlantic Canada takes center stage. Host Gabrielle Bejarano welcomes Charles Landry and Ray Girouard to explore the implications of this venture. Bejarano, Landry, and Girouard discuss […]
Read More