VTOL's Role in the Future of Public Safety
Romeo Durscher is the Vice President of Public Safety at Auterion, and he shared his insights regarding VTOL – vertical takeoff and landing.
"In 2016, I got exposed to VTOL, vertical takeoff and landing platforms, for the first time. I was really intrigued by this concept. I already, in the back of my mind, had visions of how this could be utilized in enterprise, especially in public safety.
Now, having been at Auterion for a few months and having had the opportunity to really dig into some of the battery-powered drones, I am super excited.
Last week, for example, I spent several days in the desert testing the quantum systems vector. Vector is a beautiful victo platform, German engineered, amazingly put together with a tremendous amount of capabilities.
And, thanks to the Auterion-powered concept data flight logs, as well as live camera views with edge computing abilities on the aircraft, we live streamed to into the Auterion suite. So, it's an amazing tool to have.
What really excited me, though, was that we did a lot of testing in high-wind environments to, in essence, fine tune our Auterion enterprise for flight control firmware.
And that is extremely helpful because, now, we standardize all of this. So that, no matter if you're flying a VTOL or a multi-rotor, there is one user interface, there's one radio, it's standardized.
And that, in combination with the little capabilities, brings a whole new aspect into public safety.
There are multiple times when we have multi-hour incidents, like a hazardous material incident or a natural disaster, and we need a high level of situational awareness or overview of the scene. That's where a VTOL will come in handy, fly for 90 minutes to two hours up there, and show us live what is happening.
While we're still utilizing multi-rotors for closer-to-the-ground missions, those two will work together. Not only that, but the crew and the aircraft will be above that. And this is going to be a layered approach.
The benefits are tremendous, especially when you have the ability to get not only your live footage from the drone anywhere where you need to have it, but also very important health data, flight logs in real time from the aircraft, and more that allow you to do a tremendous amount of risk mitigation and decision-making capabilities on the ground.
I am very, very excited about this development. And we will see much more about integration in public safety."
Follow us on social media for the latest updates in B2B!
Twitter – @MarketScale
Facebook – facebook.com/marketscale
LinkedIn – linkedin.com/company/marketscale
Latest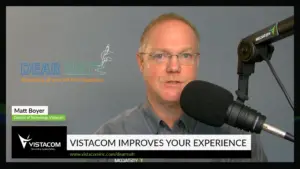 December 11, 2023
In a time when the AV industry supply chain faces unprecedented challenges, understanding its current status and future trajectory is crucial. In this week's segment of "Dear Matt," presented by Vistacom, host Matt Boyer, the Director of Technology at Vistacom, brings his over 30 years of experience in the audiovisual industry to the status […]
Read More