Adapting to the World's Exploding Need for Bandwidth
On this episode of Test Your Network, an EXFO podcast, host Tyler Kern was joined by EXFO Director, Transport and Datacom Business Unit Sophie Legault and Xilinx Director of Wired Communications Gilles Garcia for a discussion about how the two companies are working to provide boosted connectivity during a time when remote-work requirements and more have thrust a need for that connectivity into the forefront.
EXFO develops test, monitoring and analytics solutions for network operators, helping them ensure they're performing to the best of their ability at all times through robust testing, real-time data and more, while Xilinx delivers adaptable communications platforms for wired and wireless networks that help ensure reliable performance.
The two companies have partnered together to provide fully formed solutions that have been tested and demonstrated, giving end users confidence in their ability to solve the myriad challenges presented by 5G.
"We have been working for years with EXFO, and EXFO is using a lot of the Xilinx technology in their products, as well. … It's almost a ripple effect," Garcia said. "When we are bringing the new chips to the market, we need to work very closely with EXFO in order to have (interoperability) between our platforms and their testing equipment, so we can prove to the world that, in fact, the test equipment is ready."
With the COVID-19 pandemic still causing ripple effects throughout the world's industries, the need for flexibility and performance in 5G solutions is more apparent than ever before.
Fortunately, new innovations are helping 4G and 5G coexist and pushing the 5G rollout forward.
"If we look more specifically at the 5G transport, to bring all the new applications that are promised by 5G, there are quite a number of new technologies that are planned to be deployed in the transport network, or what we call the crosshaul transport network. … There are very strict requirements on that network for things like latency, throughput, network slicing and others," Legault said.
Follow us on social media for the latest updates in B2B!
Twitter – @MarketScale
Facebook – facebook.com/marketscale
LinkedIn – linkedin.com/company/marketscale
Latest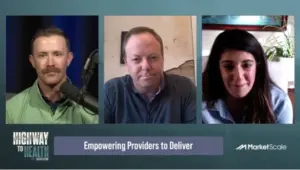 December 6, 2023
The healthcare industry is undergoing a significant transformation, driven by the need to improve patient experiences, access, and outcomes. Amidst this shift, contract lifecycle management (CLM) is emerging as a critical tool for healthcare providers. With the increasing pressure on cost management and compliance, healthcare organizations are seeking solutions that streamline operations and enhance […]
Read More