How Smart Cities Can Benefit From Real-time Threat Detection and Automated Response Security Solutions
At ISC West 2023, Bosch showcases its revolutionary video solutions which transform security through cutting-edge neural detectors that mitigate risks and protect assets and people. 
Bosch Video Analytics is a sophisticated security technology that enables automated responses to potential security threats. It is designed to provide real-time insights into the events occurring within a monitored area, allowing security personnel to identify and respond to potential threats more effectively.
Using advanced artificial intelligence, neural detectors, and deep learning algorithms, Bosch Video Analytics can analyze video footage from security cameras in real-time, detecting and identifying a range of potential security threats, including people loitering, trespassing, or acting suspiciously. The system can also recognize specific objects and behaviors, such as vehicles entering or exiting a restricted area, or individuals carrying weapons or other dangerous items.
One of the most significant benefits of Bosch Video Analytics is that it can be configured to trigger automated responses when a potential threat is detected. This means that security personnel can receive instant alerts and take action in real-time, without the need for manual intervention. The system can automatically sound an alarm, send an alert to security personnel, or even initiate physical barriers or other measures to prevent unauthorized access.
Another advantage of Bosch Video Analytics is its ability to integrate with other security systems and technologies, such as access control systems, fire alarms, and emergency response systems. This integration allows for more seamless and efficient security operations, with multiple systems working together to provide a comprehensive security solution.
Overall, Bosch Video Analytics is an advanced security technology that provides real-time insights into potential threats and enables automated responses to enhance security operations. With its advanced AI and deep learning capabilities, this system can help organizations improve their security posture and protect their people, assets, and facilities more effectively. 
Bosch foresees the benefits of Video Analytics for SMART cities to assist with parking and intelligent traffic insights to create a safer metropolitan traffic situation and maintain transportation flow throughout the city with greater than 95% accuracy.
Video Analytics Marketing Manager, Bosch Security Systems
Matthew's thoughts:  Mathew envisions how video analytics will help launch SMART cities with parking solutions, and improved security. He also reflects on cybersecurity specifications and 'stealth' mode. 
Article written by Kimberly Sharpe
Latest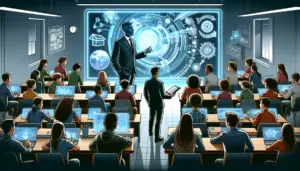 November 27, 2023
In an era where education stands at the crossroads of tradition and innovation, the potential value of thought leadership becomes the guiding star for progress. "Just Thinking" dives into this potential with host Kevin Dougherty and guest Evan Edwards, a Professional Learning Specialist at 806 Technologies who exemplifies the transformative impact of visionary guidance […]
Read More