Encrypted: The Personal Side to Cybersecurity
Hackers are gaining access to mobile devices regardless of users clicking on a link. This leads to the question: People are asking these days: are my devices safe, are the apps I'm downloading secure, and how can I protect myself and my data?
Christopher Novak, the Global Director for the Threat Research Advisory Center with Verizon, provided some thoughts and insights on these concerns and provided some tips and best practices on what people should be doing to keep their mobile devices secure.
"From a security standpoint, we are always looking for there to be a hack or attack kind of angle for just about everything," Novak said. "So naturally, when these big outages occur (like the recent outage at Facebook), they attract a lot of attention." And while the current information on hand points to an internal issue, and not a cyberattack that brought Facebook down on October 4th, it raises the concern of many people about the safety of their data.
And these security concerns weren't helped by the recent Apple malware attack called CVE-2021-30860, which could operate undetected to the user and potentially grab personal data. And While not every cyberattack is something a device user can protect themselves against, Novak said some best practices could safeguard many security risks.
"A couple of things that immediately come to mind," Novak noted. "Number one: avoid rooting your device." Sometimes called 'jailbreaking,' a user breaks out of some of the manufacturer's core settings to do different things with the device; however, this can cause security failures built into the device's core settings.
"Another one I always recommend is multi-factor identification. This way, if someone does get access to some of your information, or they learn your password, that's not enough for them to get into your accounts or your devices."
View Verizon Business' Resources for more helpful and engaging content.
Latest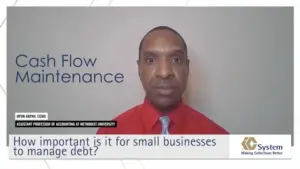 December 8, 2023
Effective debt management through a robust accounts receivable system is essential for small business cash flow and growth, necessitating automated payment schedules and strategic policy adjustments. Collaborating with a collection agency as a strategic partner can enhance revenue recovery while preserving positive customer relationships. How critical is effective debt management for the financial health […]
Read More