How the Pandemic Has Affected Meeting Rooms and Solutions
Host Michelle Dawn Mooney spoke with Rob Houston, the Senior Solution Consultant for Jabra, and Jonathan Garcia, the Lead Technical Solution Director for Crestron, about the changes to meeting rooms post-pandemic.
COVID-19 brought significant changes to workplaces. Workers had to learn to work remotely and organize a workspace in their homes. In addition, they had to learn how to collaborate and communicate with other team members virtually. Therefore, organizations must think of how to make it work, such that operations are not affected. According to Garcia, "The Pandemic turned Creston inside out and affected how meetings were conducted."
Audiovisual platforms like Zoom, Google Meet, and Skype have been around for a while, but their relevance significantly increased in the last two years. This can be attributed to organizations leveraging them for unified operations. In no time, everyone learned how to do conference calls from their personal device in the comfort of their homes. For example, before the pandemic, you may need to travel to another state for a meeting. Now, we can simply schedule a Zoom meeting that eradicates the need to travel.
These audiovisual platforms have been an effective medium of communication when people cannot gather. However, workers are slowly returning to the office because audiovisual mediums are almost as good as meeting in person. Therefore, employers and managers need to get creative in extending this experience to the office workspace.
"Audiovisual platforms enhanced unified communications as they became the communication vehicles that meeting rooms could use," explained Houston. In addition, these platforms significantly reduced the cost of video enabling a meeting room.
Many organizations do not require all the staff to be in the office all the time post-pandemic. Therefore, one of the challenges is equipping hot-desk spaces for employees that may need to report to the office for about two or three days of the workweek. Before the pandemic, big conference spaces were used. However, there is a need for smaller rooms to be equipped for high-quality audiovisual interactions. Post-pandemic, workers have higher expectations from audiovisual spaces because working from home provided many benefits.
"Companies must find a way to re-transition working from home to making working spaces at the organization scalable," explained Housten. Meeting rooms have to be optimized to promote visibility and audio. The person on the other side can see them clearly and appreciate their non-verbal cues. In addition, while being in the office, they must have the right tools to ensure the best meeting room experience.
Hybrid workspaces are here to stay because companies are coming to terms with the benefits. This flexible work arrangement allows companies to find the right talent. The need for audiovisuals in non-traditional spaces is on a steady rise.
Jebra offers a high-resolution camera to ensure people look visible, natural, and relaxed. Creston is collaborating with Jebra to deliver scalable solutions to customers. The hardware components (such as cameras, headphones, lighting, etc.) of meeting rooms are as important as the audiovisual platforms. This collaboration is committed to offering solutions to make those spaces meaningful.
A feature in the future of audiovisual solutions is the use of Avatar. For example, suppose you are not dressed up for video meetings. Instead of turning off your camera, you can use an Avatar. The use of avatars is a blend of AI with the audiovisual trend. In addition, it promotes a sense of interpersonal communication during virtual meetings.
Latest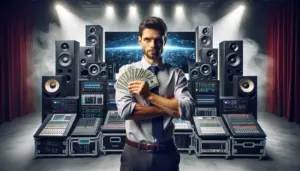 December 8, 2023
Mastering AV sales strategies in a global professional audio-visual (Pro AV) market, poised to reach $79.2 billion by 2028, requires much attention to detail. The surge in demand from corporate, government, and institutional sectors, driven by the need for enhanced productivity and efficient working environments, gives AV sales pros a lot of opportunity. In […]
Read More