How to Find The Right Printing Machine and Solution
For our industry's customers, getting face to face with the right printing machine is more troublesome than ever, with tradeshows out of the picture until at least April 2022. And if you've listened to previous episodes of the show, like such as with our friends at Sign Master and Parrott Printing, they reiterated the importance of being thorough with finding the right printing solution.
On this episode of Print Precision, a podcast by Digitech, Host Daniel Litwin talked with Patric Coldewey, President at Digitech. They dig into the process needed to take place to make sure ensure a graphics supplier, sign company, or commercial printer can find the suitable printing machine to fit their needs.
So how are we getting folks to see our printers in person?
"We're having demo weeks," Coldewey said. "We're having two or three demos a day. Some of them are live. Some of them are Zoom demos. We're getting people in front of them and telling people within driving distance to bring 50 to 100 sheets over here and watch the printer run."
Obviously, a tradeshow environment is nice because you can go from one machine to the next, according to Coldewey. When you're doing that, you're sitting and watching the machine, but you can get confused at tradeshows because there's so much information. With that being said, even though you are sitting and watching the machine at tradeshows, it is easy to get confused due to the influx of information.
"The biggest thing I like to emphasize for customers if you're looking for a piece of equipment, don't take anybody's word for it," Coldewey said.
Latest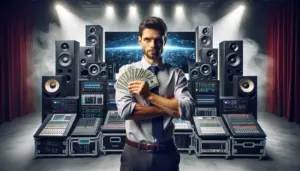 December 8, 2023
Mastering AV sales strategies in a global professional audio-visual (Pro AV) market, poised to reach $79.2 billion by 2028, requires much attention to detail. The surge in demand from corporate, government, and institutional sectors, driven by the need for enhanced productivity and efficient working environments, gives AV sales pros a lot of opportunity. In […]
Read More