Find Your Edge: How the Military Trains and Leverages Neuro-Fitness
In the military, mental fortitude and neuro-fitness can mean life or death.
That's why, at the US Air Force Training Academy, Assistant Director and Head Exercise Physiologist for the Academy's Human Performance Lab Dyana Bullinger is paying special attention to active-duty members' mental fitness.
Bullinger joined host and Voice of B2B Daniel Litwin on this episode of Find Your Edge, a Reflexion podcast, to discuss how neurological fitness strategies and technology typically associated with athletics are transforming the way members of the military are prepared for the rigors of their line of work.
Bullinger said there are certainly comparisons to be drawn between the world of athletics and the military, particularly in the use of Reflexion's neuro-fitness aids.
"I think, on some fronts, they're very similar," she said. "When you train with the visual system, although the end goal may be different, some of the exercises are fairly the same. You may just change them to be more specific to a certain population. In terms of buy-in, it's also sort of similar, as well. I think the military is starting to buy in a little bit harder because of that end goal of life or death."
In the military, the vision training component has drawn the most attention, as it directly translates to members of the military being able to take in and react to visual information and cues quickly, even during high-stress operations and situations.
Follow us on social media for the latest updates in B2B!
Twitter – @MarketScale
Facebook – facebook.com/marketscale
LinkedIn – linkedin.com/company/marketscale
Latest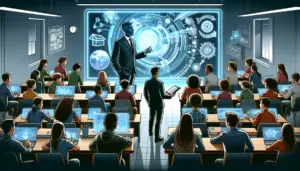 November 27, 2023
In an era where education stands at the crossroads of tradition and innovation, the potential value of thought leadership becomes the guiding star for progress. "Just Thinking" dives into this potential with host Kevin Dougherty and guest Evan Edwards, a Professional Learning Specialist at 806 Technologies who exemplifies the transformative impact of visionary guidance […]
Read More