Modernizing IT Infrastructure for Application Performance
When's the last time you thought about your IT system? It's likely you have critical applications that need to run with maximum uptime, but if your system isn't modernized, it may not serve your needs.
Modernizing a system may not be the right decision for everyone, but it's a choice users of IT systems should consider, especially as technology continues to change.
"When you look at [Scalable Process Architecture, or SPARC], you've got to try to hit the pause button a moment and really decide what's your best bet [moving] forward," McCay aid. "So, you can modernize where you're at or migrate off to a different platform. What we see available to customers is a choice of what's the best [plan]. We can modernize the SPARC and create a simpler path forward for conducting today's businesses and preparing for tomorrow's business."
COVID-19 sent many clients scrambling, especially some of the government clients that the trio of Fujitsu, Oracle and ViON have long been working together to assist.
That history working together and having so many years hands-on with SPARC and similar platforms is something few other groups are able to replicate.
"There is no substitute for experience in doing this. … You can lay out a nice road map and show how those things happen, but to get it done on time, on budget, and at low risk to the customer, experience is the most important thing," said Bob Netherton, Master Principal Sales Consultant at Oracle.
Be sure to subscribe to our industry publication for the latest news, videos, and podcasts in the Software & Technology Industry.
Twitter – @MarketScale
Facebook – facebook.com/marketscale
LinkedIn – linkedin.com/company/marketscale
Latest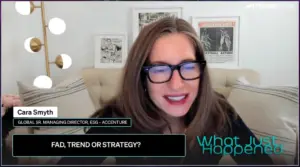 November 30, 2023
The world is in an era where sustainability and responsible retail business practices are increasingly crucial. For the latest episode of "What Just Happened," host Christine Russo further explored the hows and whys of this pressing issue by interviewing Cara Smyth, Global Senior Managing Director for ESG and Responsible Retail at Accenture, and Chair […]
Read More