Not Your Father's Data Center: Mining for bitcoin and other cryptocurrencies
Fred Thiel, CEO of Marathon Digital Holdings, one of the largest bitcoin mining operations in North America, joined host Raymond Hawkins to discuss cryptocurrency. From blockchain to bitcoin, Thiel covered it all, including all the nooks and crannies in between.
"The blockchain is essentially a chain of linked blocks that each block consists of a certain number of transactions," Thiel said. "If you think about a ledger, like your check register, if you have a checkbook and you write a bunch of checks, you write them down in your check register at the month you get a statement from your bank. So, those types of transactions are formed into blocks. The underlying software for the blockchain allows miners to do this process of assembling these transactions into blocks. Then you run a mathematical cryptographical proof on this data, and that generates a hash. And that hash has to have a certain value to it. And when it gets that hash, it then has to be equal to or less than a specific target number that the blockchain is looking for."
Miners who guess that number correctly will win the block, publish the block, other nodes validate the block, and then the miner will receive a block award.
In the high-stakes game of blockchain mining, with limited numbers of bitcoin issued per day, Thiel said there is a competition to it. "If you have one miner, and you plug it in, you're not going to get a fraction of a bitcoin every day," Thiel said. "And so what miners do is, miners, pool their miners together. And aggregating and cooperating, a group of miners in a pool, you have a more hash-rate you're contributing to the overall network, and a higher likelihood you're going to win blocks, and the block rewards can be evenly distributed amongst members of the pool."
Latest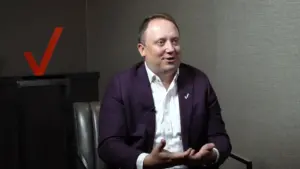 December 1, 2023
For a special episode of The Verizon Partner Network the focus was on the considerable role of partnerships in the Verizon Partner Program and the leaders shared their perspectives on the initiative. Their conversation brought about a lot of thought-providing context on the evolving telecommunications landscape. In today's era, collaboration and integration are key to […]
Read More