Why Quality Is the Cheapest Thing to Send Your Customers
Price isn't the only driver of satisfaction. While it matters for buyers of print products, they care about quality, as well. In fact, quality and affordability aren't mutually exclusive.
Additionally, representing quality every time leads to cost savings.
DigiTech
 Founder and Owner Patric Coldewey joined this episode of Print Precision to share his thoughts on quality and its fiscal impact,"From my experience, quality is the cheapest thing you can do. High-quality every time, all the time. Thinking everyone wants a cheap sign isn't true," Coldewey said.Printers are more advanced than ever, and the right equipment is what turns out quality every time. That's how to win the long game, according to Coldewey."The goodwill that quality builds equals return business. The problem is thinking it's 'good enough' for the application. That's not a formula that's working right now," Coldewey noted.
A mentality of the output being average isn't going to lead to success. After all, most people don't remember average. They do remember high-quality. Many print companies believe that the only way to cut costs is by diminishing the quality. Coldewey said it's a fallacy and that his customers that are all-in on quality are reaping the benefits.
The commitment to quality in every job drives revenue generation and offsets other costs. First, companies are more likely to retain customers and get repeat business. Second, with happy customers and word of mouth, marketing costs can be more impactful. After all, if an organization invests ad dollars to convert a customer who receives a sub-par product, all that money will be for naught.
Meeting customer expectations includes many elements, but quality is at the top, and there's no substitute for it.
Follow us on social media for the latest updates in B2B!
Twitter – @MarketScale
Facebook – facebook.com/marketscale
LinkedIn – linkedin.com/company/marketscale
Latest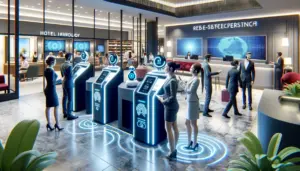 December 8, 2023
Facing critical staffing shortages, over 80% of hotels struggle to fill positions despite offering higher wages and flexible hours, as reported by a recent American Hotel & Lodging Association survey. While slightly improved since May 2022, this situation highlights a significant challenge in the hospitality industry, with housekeeping roles being the most urgently needed. […]
Read More